Débat intercontinental : comment la récente pandémie a créé de nouvelles solidarités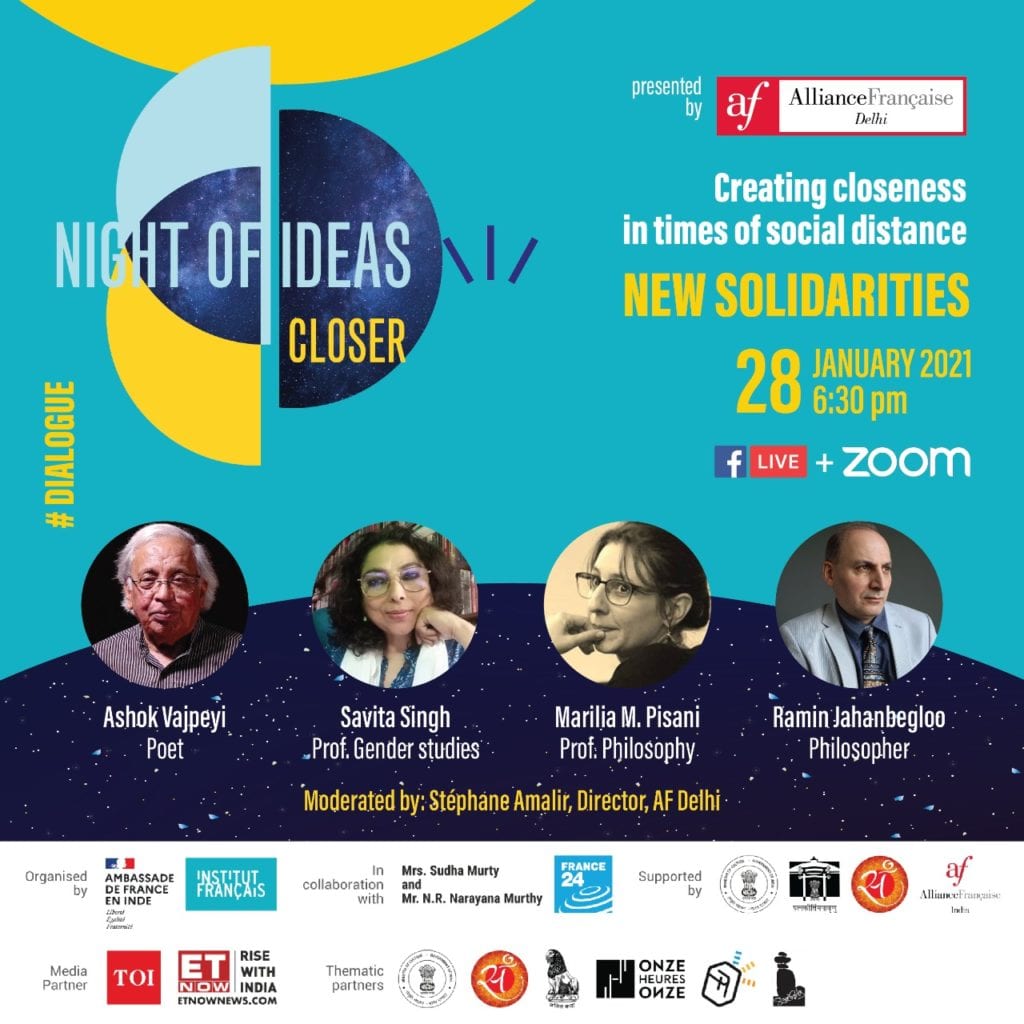 28/01/2021

Locale :

18h30


Paris :

14h00

72 Lodhi Road Alliance française de Delhi, New Delhi, IN

Inde

anglais / français
The Alliance Française de Delhi will be organizing a round-table on the given theme "Close(r)" focusing on one of its subject matter "New Solidarities in times of Pandemic" with the following prestigious panelists, who will intervene from India, Brazil and Canada:-
1. Ashok Vajpeyi: – Ashok Vajpeyi is an Indian poet in Hindi, essayist, literary-cultural critic, apart from being a noted cultural and arts administrator, and a former civil servant. He was chairman of Lalit Kala Academy, India's National Academy of Arts, Ministry of Culture, Govt of India, 2008–2011. He has published over 23 books of poetry, criticism and art, and was awarded the Sahitya Academy Award, India's National Academy of Letters, in 1994 for his poetry collection, Kahin Nahin Wahin. Besides the poetry, he has also published works on literary and art criticism.
2. Savita Singh: – Prof. Savita Singh is Professor in the School of Gender and Development Studies, IGNOU. She joined the School in 2009 as its first director. Currently, she coordinates the PhD Programme in Gender and Development Studies and Master's in Gender and Development Studies in the School. She wrote her PhD thesis on "Discourse of Modernity in India: A Hermeneutical Study" and earned her degree from Delhi University.
Her areas of academic interest are, Feminist Theory, Epistemology, Aesthetics and Gender and labor.
3. Marilia M. Piasani: – Ms. Pisani is a Professor of Philosophy at Center of Natural Sciences and Humanities, of Federal University of ABC, São Paulo, Brazil. She coordinates the NEXOS research group: critical theory and interdisciplinary research-Southeast; She is a member of the Research and Teaching Philosophy Laboratory; She is a member of the Philosophy and Gender Groups, at National Association of Graduate Studies in Philosophy; She composes the « Uirapuru Collective » as activist and researcher in the Project « Living Women, Standing Forest: listening to (r)existences »; She is assistant coordinator of the community Project « Basic principles and practices of agriculture: awakening the sensitivities for land cultivation ».
4. Ramin Jehanbegloo: – Ramin Jahanbegloo is a well-known Iranian-Canadian philosopher. He received his B.A. and M.A. in Philosophy, History and Political Science and later his Ph.D. in Philosophy from the Sorbonne University. In 1993 he taught at the Academy of Philosophy in Tehran. He has been a researcher at the French Institute for Iranian Studies and a fellow at the Center for Middle Eastern Studies at Harvard University. Ramin Jahanbegloo taught in the Department of Political Science at the University of Toronto from 1997-2001. He later served as the head of the Department of Contemporary Studies of the Cultural Research Centre in Tehran and, in 2006-07, was Rajni Kothari Professor of Democracy at the Centre for the Study of Developing Societies in New Delhi, India. In April 2006. He is presently a Professor of Political Science and a Research Fellow in the Centre for Ethics at University of Toronto and a board member of PEN Canada. In October 2009 Jahanbegloo became the winner of the Peace Prize from the United Nations Association in Spain for his extensive academic works in promoting dialogue between cultures and his advocacy for non-violence.