ST[ART] AGAIN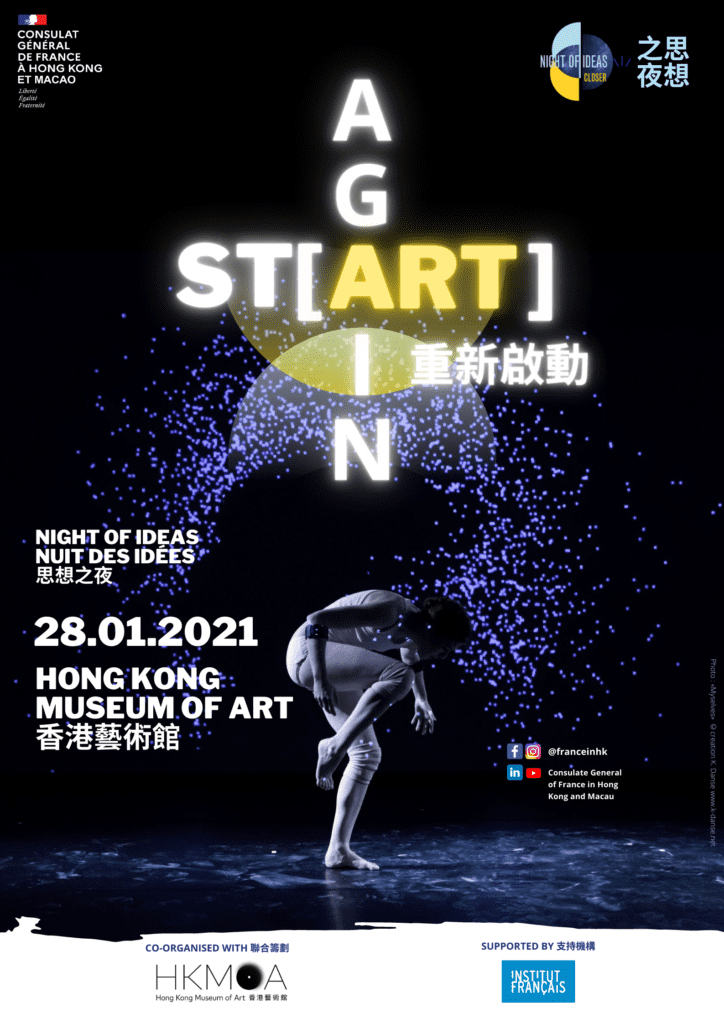 28/01/2021

Locale :

18h00


Paris :

11h00

10 Salisbury Road Hong Kong Museum of Art, Hong Kong, HK

Hong Kong

Anglais
For this edition, you are invited to rediscover the role art plays in our society, to revisit the definition of museums, culture and art, and to learn the great challenges and evolutions they will know post-2020.
• To what extent art can unite us in these exceptional times and accompany us through the great changes we are experiencing.
• In which way art, culture and museums are essential to our modern societies.
Insightful debates will be unfolded between museum directors, curators, artists and art lovers from both France and Hong Kong around the crucial role art and culture play in our contemporary world. Take this exclusive opportunity to meet with these leading artistic and institutional figures and take part in the discussion!
Our programme
Opening conversation: The Power of Art
This conversation will question the crucial role of art in our contemporary societies: 'To what extent it can unite us in times of crisis and how it can help us revisit our perception of the world?' Art can provide new perspectives on difficult topics that academic knowledge fails to fully comprehend. For this transformative power to be effective, it is essential to promote the widest public access to art possible? Does modernity need art?
Panelists
Ms. Laurence des Cars, President, Musées d'Orsay et de l'Orangerie
Mr. Johnson Chang, Curator and Chinese contemporary art expert
Moderator : Ms. Vivienne Chow, journalist and critic (arts and culture)
Panel Discussion 1: Museums at the Crossroad of Cultures and Societies
Artistic movements can be the reflection of an era, mutually influencing and being influenced by the social and cultural context which artists belong to and create in. By building bridges between different cultures and traditions, artists bring together people and societies. Museums are at the heart and crossroad of these great changes: whilst inanimate by nature, they flow alongside the tide of time, constantly reinventing themselves and reflecting present thoughts. What new transitions will they know after this exceptional year?
Panelists
Ms. Catherine Pégard, President, Palace of Versailles
Mr. Laurent Le Bon, Curator and Director, Musée Picasso
Ms. Suhanya Raffel, Director, Museum of M+
Dr. Raymond Tang, Curator, Hong Kong Heritage Museum
Moderator: Ms. Apo Wu, Curator (Learning & International Programmes), Hong Kong Museum of Art
Panel Discussion 2: Art Post-2020 – The Digitalization of Art
Exchange of perspectives of Hong Kong and French artists on the way their practices will evolve after 2020, both in terms of format and content. With the rapid development of new technologies and the increasing use of artificial intelligence, what will be the evolution of artistic practices post-2020?
Panelists
Dr. Hung Keung, artist, Museum Expert Adviser
Mr. Chris Cheung Hon-him, artist, Artistic Director, Xceed
Ms. Blanca Li, artist and director, Teatros del Canal
Ms. Tatiana Vilela dos Santos, game designer and interactive artist
Moderator: Ms. Vivienne Chow, journalist and critic (arts and culture)