(Re)building Together: Where do we go from here ?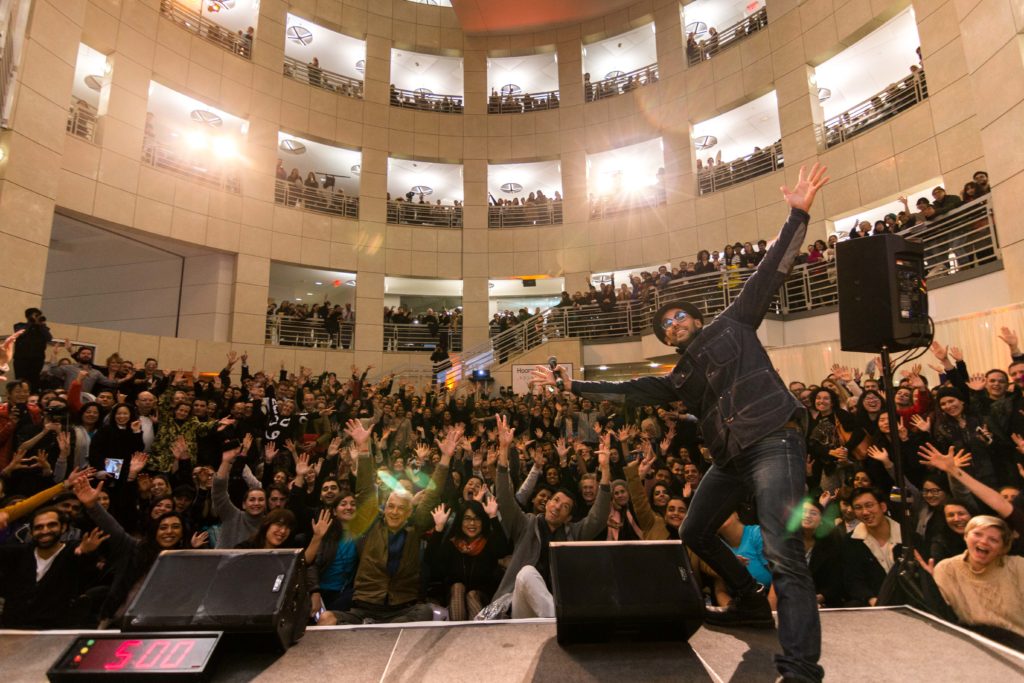 27/01/2022

Locale :

18h00


Paris :

03h00

KQED Headquarters 2601 Mariposa Street, San Francisco, US

États-Unis

English / French
This year's event takes over KQED's new state-of-the-art headquarters in the Mission District of San Francisco. Designed to spur dialogue and creative participation amongst panelists and attendees on the theme « (Re)building Together: Where do we go from here? », the evening will invite participants to consider a world that is still reeling from the disruptions wrought by the global pandemic and to find hope in the future. How do we heal ourselves and our communities from this collective trauma? How can we (re)build our institutions to meet the pressing challenges of our time? What ideas will carry us forward to a brighter tomorrow?
The program will feature three keynote discussions onstage in our intimate theater, along with interactive community challenges sessions and small circle conversations with local community leaders, experts, and organizers on different facets of Bay Area thinking about how we rebuild the systems to whose flaws, decay, or intentionally exploitative designs could serve us better as a society. The three mainstage discussions will consider how we must reconstitute our infrastructures, processes and procedures, and organizing principles to achieve the ideals of a healthy democracy, climate resilience, and racial justice. Together they ask how we can reimagine the social contract that binds our shared political, environmental, and cultural future.
Confirmed speakers and artists :
Valérie Sainte-Agathe, Artistic Director for San Francisco Girls Chorus
Eric Liu, Co-founder and CEO of Citizen University and the Director of the Aspen Institute's Citizenship and American Identity Program
Anuradha Mittal, Founder and Executive Director of the Oakland Institute
Bruce Cain, Professor of Political Science at Stanford University and Director of the Bill Lane Center for the American West, as well as Senior Fellow at the Woods Institute for the Environment
Lil Milagro Henriquez, Founder and Executive Director of Mycelium Youth Network, Recipient of the Women's Earth Alliance fellowship
Zahia Rahmani, Art Historian and Writer
Jeff Chang, Senior Advisor at Race Forward
Sharaya Souza, Executive Director & Co-Founder of the American Indian Cultural District
Deena Chalabi, Writer, Curator and Arts Leader
Renee Diresta, Technical Research Manager at Stanford Internet Observatory
Julie Owono, Executive Director of Content Policy & Society Lab – Stanford Center on Philanthropy and Civil Society, and Executive Director of Internet Sans Frontières
Toussaint Nothias, Associate Director of Research, Digital Civil Society Lab, Stanford PACS
Lucy Bernholz, Director of the Digital Civil Society Lab at Stanford PACS; Senior Research Scholar, Stanford PACS
Pierre Collignon, Fullstack Software Engineer at StartX
Jonaya Kemper, Writer, Game Designer and educator
Rashidi Omari, Director of the Destiny Arts Youth Performance Company (DAYPC) and Senior Teaching Artist at Destiny Arts Center
Rose Huey, Education Coordinator and Core Dancer at Bandaloop
Will Maynez, Historian of Diego Rivera's Pan American Unity mural at City College of San Francisco
Crystal Wahpepah, Chef and Caterer at Wahpepah's Kitchen (Native American cuisine)
Chulita Vinyl Club, Band Made up of Women, Gender-non-conforming, Non-binary, LGBTQ+ and Self-Identifying people of color
Partenaires