Exercices d'admiration dans les ruines du capitalisme / Ejercicios de admiración en las ruinas del capitalismo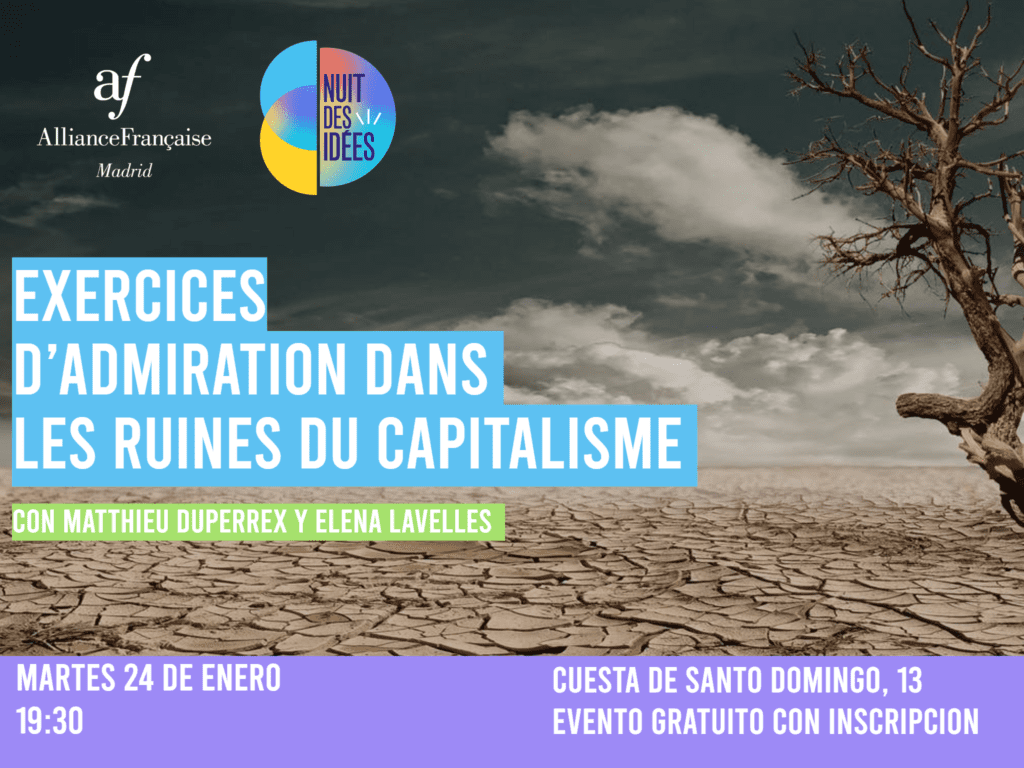 24/01/2023

Locale :

19h30


Paris :

19h30

Alliance Française de Madrid

Espagne

Français / Espagnol
En el marco de la Nuit des idées 2023, la mediateca de la Alianza Francesa de Madrid ofrece una mesa redonda entre un filósofo francés viviendo en Marsella y una artista internacional española cuyo estudio está en Madrid: Matthieu Duperrex y Elena Lavellés.
Ambos están comprometidos con el debate en torno al Antropoceno y las acciones del ser humano sobre el medioambiente.
Matthieu Duperrex es un artista y teórico, dedicado a las relaciones entre el arte contemporáneo y el Antropoceno. Es director artístico del colectivo Urbain, trop urbain (www.urbain-trop-urbain.fr) e investigador asociado al LLA-Créatis (Universidad de Toulouse-Jean Jaurès). Actualmente, es profesor asociado a la Escuela de Arquitectura de Marsella. Sus trabajos artísticos están basados en investigaciones sobre el antropoceno, la literatura, las ciencias humanas y las artes visuales. Participa en numerosos encuentros en Francia y dentro de la red francesa en el extranjero.
Elena Lavellés es licenciada en bellas artes por la Universidad Complutense de Madrid, tiene masters en el California Institute of the Arts (Los Ángeles), en la Universidad Europea de Madrid así como un postgrado en el Whitney Independant Study Program (New-York.) También ha realizado estudios universitarios en geología y filosofía.
En el contexto de este encuentro, Matthieu Duperrex dedicará dos de sus libros:
Voyages en sol incertain, Wildproject, 2019
La rivière et le bulldozer, Premier Parallèle, 2022
(Ambos títulos también están disponibles para el préstamo en la mediateca.)
Se podrá disfrutar del encuentro TANTO EN FRANCÉS COMO EN CASTELLANO ya que será traducido en ambos idiomas.
Para participar, es necesario enviar un mail a mediateca@afmadrid.net.