Volens nolens... (Like it or not)... Mutatis mutandis.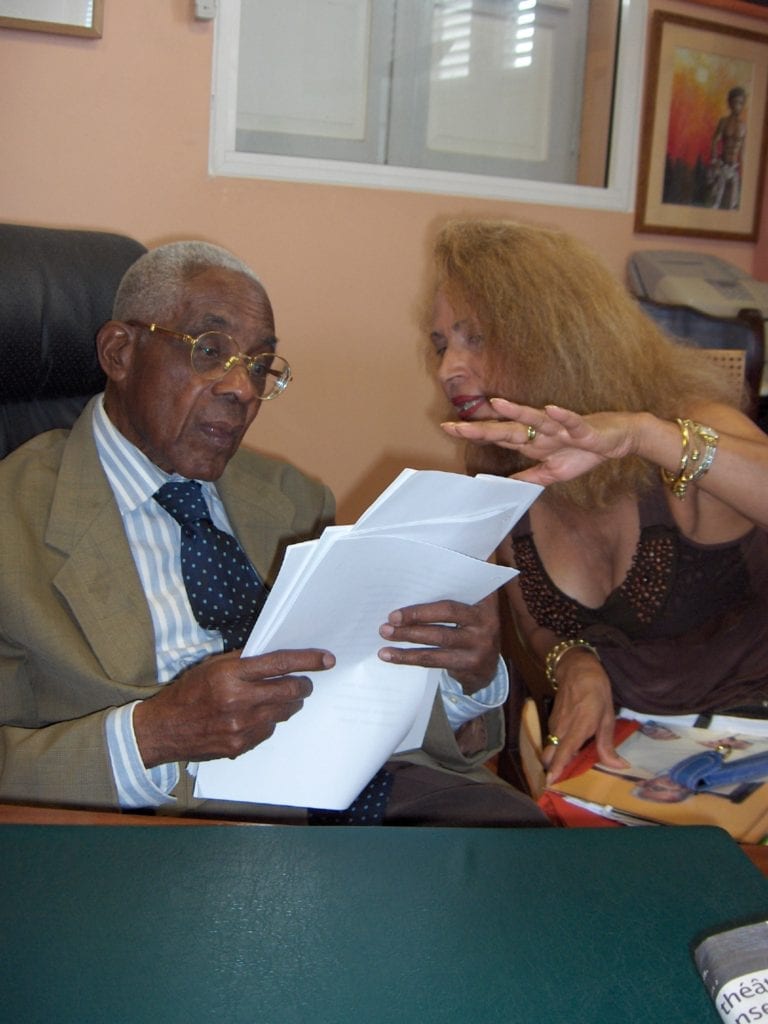 28/01/2021

Local:

6:00 pm


Paris:

11:00 pm

VILLA CHANTECLERC ROUTE DE DIDIER, 60 rue du professeur Raymond Garcin, FORT DE FRANCE, MQ

France

FRENCH/CREOLE
IDEA NIGHT
Thursday 28 January 2021, Villa Chanteclerc, Fort-de-France, Martinique
"NEAR"
Volens nolens... Like it or not... This Latin expression, composed of the two present participles "volens" (wanting) and "nolens" (not wanting), was used in ancient Rome to qualify fatality: whatever one says or does, if something were to happen, it would happen. Its meaning has been handed down through the centuries, and in our time it has been used to describe things that cannot be influenced and things that must be endured.
Another Latin expression, mutatis mutandis (meaning "that which was to be changed having been changed, once the necessary modifications have been made, setting aside the differences to make a comparison possible"), indicates that situations are similar and that one cannot consciously or unconsciously deviate from similar behaviours in social relationships from now on.
This is perhaps what the organisers of this 6th edition of the Night of Ideas, a national and international event of the French Ministry of Foreign Affairs, dedicated to the sharing of ideas and thought, are alluding to by choosing this year the theme of "NEAR", written in the plural, in relation to the crisis of this damned coronavirus.
While La Nuit des Idées has for the past 6 years consisted of some 200 events around the world, on the same date in the five continents, in about a hundred cities in more than 90 countries under the aegis of the Institut Français, for the first time in Martinique since its creation the event was organized last year in Fort-de-France by the publisher Jean-Benoît Desnel, who is repeating the operation in 2021, proving that in the West Indies, too, ideas are celebrated and handled.
The question of our relationship to space and mobility leads us to reflect on the new solidarities that the crisis in our economic and social models calls for us to build. The majority of States and human beings are confronted with the constraints of confinement or curfews, so this edition prompts us to question the very nature of our relations with others.
In these times of health measures imposing the said social distancing due to the pandemic, paradoxically, it is important to imagine ways of exploring our relationships to space and to others, for each of us and within our societies, creating emulation through the slogan "This year, let's be even closer...", although more distanced than ever.
Bridging the gap, the Night of Ideas celebrates the circulation of ideas between countries, disciplines and generations, in an invitation to discover current knowledge, to listen to those who are advancing ideas in all fields on the major issues of our time.
Connecting the imaginary, exchanging ideas, knowledge, creation, cultures, remembering that the word "culture" comes from the Latin future participle "cultura", which means "that which is to be cultivated, venerated, honoured", this is what La Nuit des Idées invites you to on Thursday 28 January 2021 at 6 pm, Villa Chanteclerc, route de Didier (60, rue du Professeur Raymond Garcin) in Fort-de-France, Martinique, in accordance with health protocol.
Free entrance depending on the gauge.
Of course, the meeting of the Night of Ideas at the Villa Chanteclerc will take place in compliance with the barrier gestures and the compulsory wearing of masks, all the more so as each guest will be given headphones to hear all the speakers without having to leave his or her seat.
THE PROGRAM IN MARTINIQUE:
18:00: Introductory remarks by the Martinican writer Suzanne Dracius, moderator.
18:10 : Jean Crusol, economist, academic :
Does being in Forbes magazine, for a young man from here, create a dichotomy with the contents of Tropics of Caesar, his wife Suzanne and René Ménil?
18:30 : Dominique Berthet, academic, essayist and Clément Plessier, artist :
The power of place in the Caribbean
18:50 : Edmond Mondésir, essayist, philosopher:
Shadows and Lights of Modern Thought
19:10 : Jean-Georges Chali and Patricia Donatien, academics :
From Storytelling to Literature, Poetics and Aesthetic Subversion
19:30 : Louis-Léonce Lecurieux-Lafferronnay, doctor :
Food independence, yes... but in the respect of organic agriculture.
19:50 : Gérard Bellemare, educator at the Legal Protection of Youth :
Social and legal protection of minors in Martinique
20:10 : Germinal Pinalie, communicating:
What will be left of Bernie Sanders' ideas in the Joe Biden-Kamala Harris government?
20:30 : Patrick Mathelié-Guinlet, poet, and Papa Slam :
Poetic Clausule.
Exhibition & sale of books, autographs of the authors :
Bookstore partner: Présence Kréol.