An evening of Canadian podcast discovery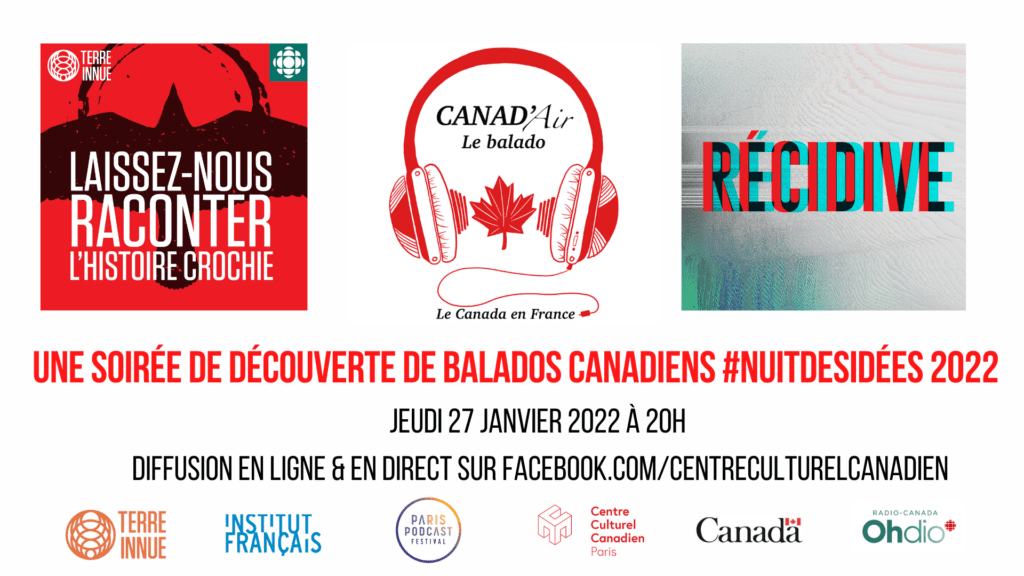 27/01/2022

Local:

8:00 pm


Paris:

8:00 pm

Online, Paris, FR

France

French
For this 7th edition, the Night of Ideas explores the theme of "(re)building together". The Canadian Cultural Centre invites you to an exceptional online meeting between three of the creators of the best Canadian podcasts of recent years.
Rejoignez-nous le jeudi 27 janvier à 20h sur Facebook ou YouTube pour découvrir l'univers et les coulisses de la création de leur balado ? Si vous souhaitez recevoir un rappel inscrivez-vous sur notre site !
https://canada-culture.org/event/nuit-des-idees-2022/
The meeting will be moderated by Grégory Philipps, Deputy Director of the editorial staff of France Culture, in charge of digital development.
On the agenda:
"Laissez-nous raconter : l'histoire crochie
Directed by Karine Lanoie-Brien / Hosted by Marie-Andrée Gill / Produced by Terre Innue in collaboration with Radio-Canada OHdio
Francophone Podcast Award at the Paris Podcast Festival 2020, Award for Excellence in Digital Publishing 2021 from the Canadian Media Awards Foundation, Numix Award 2021 (winner in the categories of podcast - documentary - social issue and international - podcast - documentary)
In Laissez-nous raconter: l'histoire crochie, Canada's First Peoples take up the baton to tell their vision of history too often written from a Eurocentric and colonialist perspective. One word at a time, they straighten out 11 words heavy with meaning in order to reconcile the past and the present. Innu poet Marie-Andrée Gill will introduce you to this award-winning podcast...
"Recidivism
Directed by Michel Montreuil / Hosted by Manuelle Légaré / A Radio-Canada OHdio production
Francophone Podcast Award at the Paris Podcast Festival 2021
In the spring of 2016, Manuelle Légaré and the team of a Radio-Canada program offered Jean-Pierre Bellemare, who had abducted a teenager in 1986, a chance to see his victim again in order to obtain his forgiveness. However, after what seemed to be a success both in terms of restorative justice and for the individual, everything changed: a teenage girl was kidnapped and confined. This event is the starting point for an investigation into recidivism...
"Canad'AIR
Directed and animated by Marie Cousin / Produced by the Canadian Embassy with La Fugitive Studios
Canad'AIR, Canada's podcast in France, meets inspiring and committed Canadians. Through their journey, their quest, their work, the listener discovers the richness and diversity of Canadian culture and the values of Canada today. Through these encounters, we evoke gender equality, aboriginal reconciliation, the French language, the environment and the defence of human rights. The creator of the podcast, Marie Cousin, will share with the public her most beautiful encounters of the last few years.