Round Table - The introduction of the pronoun "iel" in the dictionary: what impact does language have on the construction of gender identity?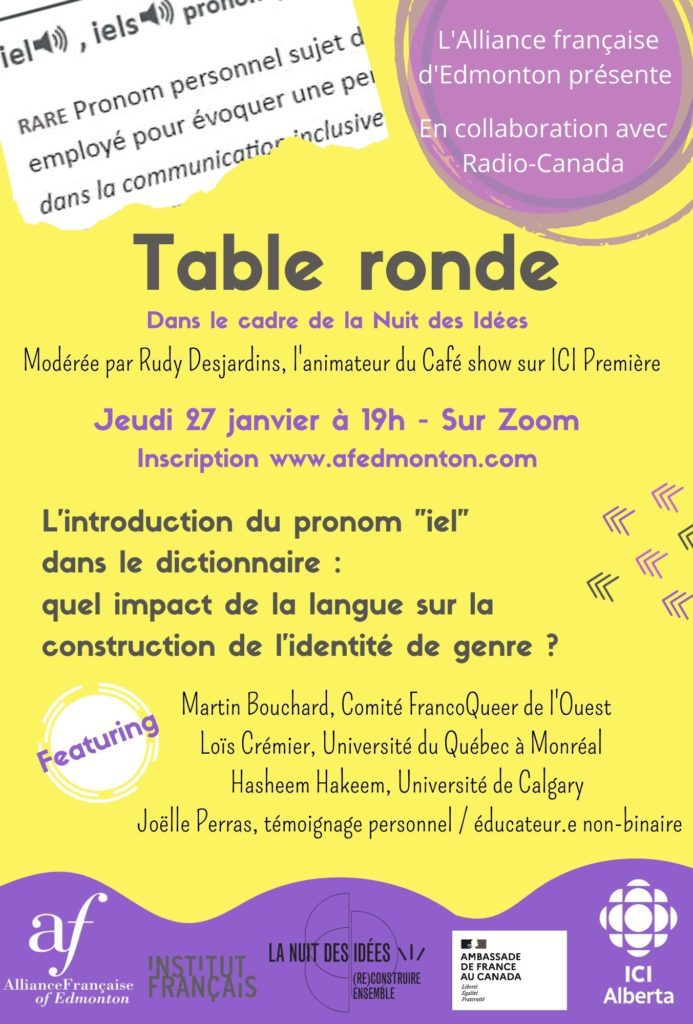 27/01/2022

Local:

7:00 pm


Paris:

3:00 am

Zoom Online

Canada

French
How can the neutral gender find its place in a language polarised between masculine and feminine? When one's gender identity is neutral and not just masculine or feminine, how can one use the French language to define oneself? What changes are needed to make the language more inclusive? What about inclusiveness in other languages?
During this round table we will try to answer all these questions and many more! Come and participate, get informed and ask your questions, in a friendly atmosphere.
This round table is presented in collaboration with Radio-Canada and will be moderated by Rudy Desjardins, host of the Café show on ICI Première.
The speakers:
Martin Bouchard, from the Comité FrancoQueer de l'Ouest.
Loïs Crémier, Université du Québec à Montréal, whose research focuses on the emergence of gender-neutral language in contemporary French in Quebec.
Hasheem Hakeem is a French instructor at the University of Calgary. His research interests include queer and critical pedagogical approaches to teaching French as a second language.
Joëlle Perras, a non-binary educator based in British Columbia, will speak in a more personal way about her relationship with the French language and how she uses it.
Event in French only.
Registration is required to receive the Zoom link to participate.
Registration on the Alliance française d'Edmonton website: https://www.afedmonton.com/en/cultural-events/nuit-des-ides-table-ronde/
Partners