Getting closer: digital, a solu-evolution?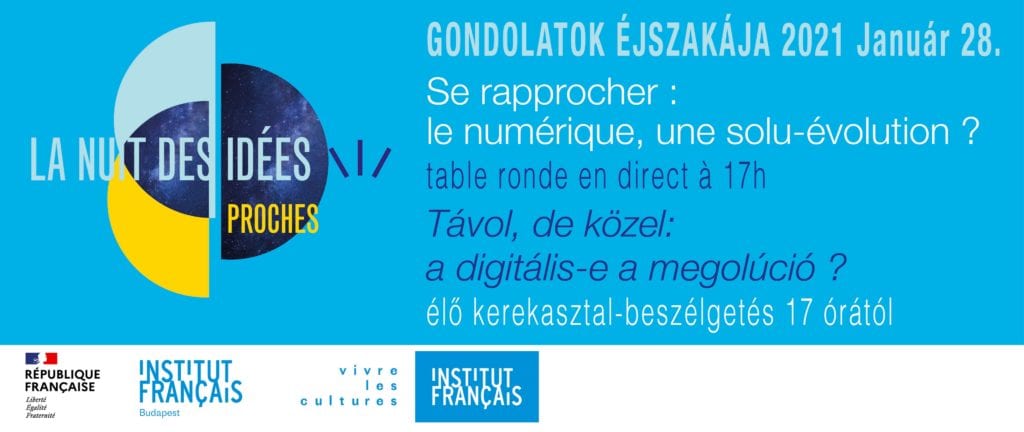 28/01/2021

Local:

5:00 pm


Paris:

5:00 pm

Institut Français de Budapest 17, rue Fő, Budapest, HU

Hungary

French / Hungarian

https://www.franciaintezet.hu/articles/universite-et-recherche/evenements/nuit-des-idees-2021---proches.html
The Night of Ideas in Hungary: Protocol for rapprochement
Our modernity is characterized by an increasing access to others and to the world. However, at a time of health crisis, we are invited to reduce travel and contacts to the bare essentials. The size of the family is being reduced accordingly. But the close relative is not simply what is close in space or time. They also have value. The person close to you is the one you know well, the one you are comfortable with, the one with whom you form society. The pandemic therefore seems to suspend the state of society, and in the feeling of dependency on others, which paradoxically has never been so much experienced, lies the risk of excluding the stranger.
Program :
Round Table : Getting closer : digital one solu - evolution ?
5:00-6:30 p.m. on January 28, 2021
Impossible to see one's loved ones around the world again, due to lack of time, or because of sanitary conditions? New technologies and the Internet offer so many solutions to communicate in real time with the whole world, to get information, or to work at a distance. The epidemic situation this year has caused an acceleration of these phenomena. But is this an asset or a trap? Moreover, does the impossibility of travelling allow us to rediscover our loved ones?
With the participation of :
Ágnes Zsila, psychologist, Department of Personality Psychology and Clinic PPKE BTK
Valérie Schafer, historian and professor of contemporary European history and history of telecommunications,
György Csepeli, sociologist, professor emeritus (ELTE) researcher (FTI-iASK)
Moderated by Anna Sándor, freelance journalist - former journalist of NőkLapja.hu and HVG.hu
Simultaneous translation into French and Hungarian
Free but compulsory registration by following this link. Limit of 90 visitors
Following your registration, you will receive the link to access the webinar by email.
Visual arts - capture : Unagi - Simon Lazarus
Unagi is an installation that diffuses a fragmented interactive video mural.
The image is broken down into planes and spread out in space and offers a ballet of dreamlike landscapes whose aspect evokes video games and cartoons. As the spectator enters the exhibition space and approaches the totems, the image dances, flickers, decomposes. The fresco slips away like a dream that vanishes in the early morning.
The work, which should have been proposed to the Institute in January 2021, is presented by its creator, the French artist Simon Lazarus. Discover it on the Facebook page of the French Institute in Hungary.
Literature - recordings : Cross texts by Lola Gruber and Krisztina Tóth
At the end of 2020, the writer Lola Gruber travels to Central Europe with the support of the Hors les murs Stendhal programme to write her third novel, which is partly set in Budapest. There she meets Krisztina Tóth, author of numerous collections and recipient of the most prestigious literary distinctions in Hungarian poetry, starting with the Attila József Prize. Both quickly saw their respective writing projects shaken by the health crisis. They write to evoke the state of the world and their sense of belonging to it. Discover them on the Facebook page of the French Institute in Hungary.
Workshop for children : A drop of life - close
January 28, 2021 from 17:00 to 19:00 Online cooperative workshop for children (ages 5 to 12)
with AGORA, a scientific play experience centre in Debrecen
How and what can we see if we examine samples placed under a microscope? What is hidden in a single drop of water? What pattern appears on a fish scale if we examine it closely? What does a paramecium look like? We get answers to these and many other interesting things in the interactive presentation of the online workshop.
Only in Hungarian
Free but compulsory registration by following this link.
Following your registration, you will receive the link to access the online workshop by email.
Partners