Resiliency to the crisis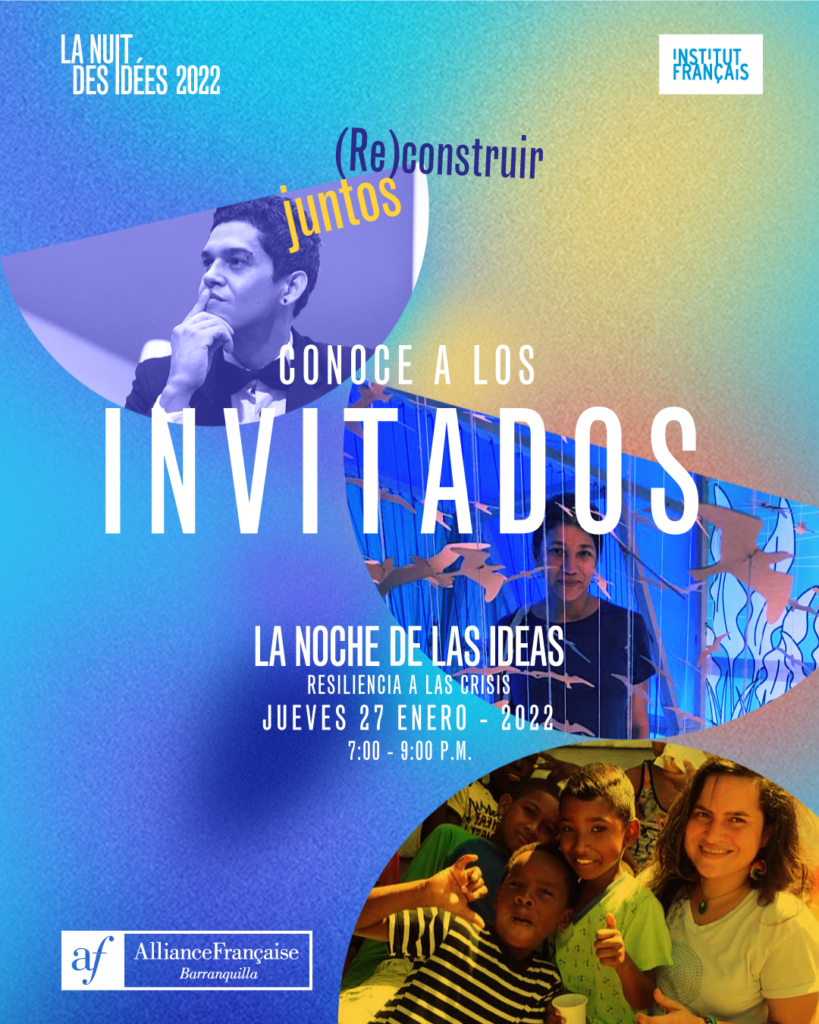 27/01/2022

Local:

7:00 pm


Paris:

1:00 am

Alianza Francesa de Barranquilla Calle 52 No. 54 - 75, Barranquilla, CO

Colombia

Spanish

https://lagenda.co/conferencia-debates/la-noche-de-las-ideas-2022-re-construir-juntos-resiliencia-a-las-crisis/
The theme for 2022 is (Re)building together (Re-construir juntos - resiliencia a las crisis).
Nos invita a plantear el tema de la resiliencia a las crisis y procesos de salida de crisis, ya sean ambientales, económicas, sanitarias o políticas, ya sea a nivel local o internacional.
Barranquilla version:
Para reflexionar sobre este tema, un grupo de expertos nos proponen el siguiente programa:
Music and being.
A cargo of Albert Peres: Psychologist and Musician, specialized in MusicTerapia.
Music is a creation and a necessity of being, in some cases it restores the soul, in others it allows communication channels where the word does not reach. Our music playlist is an X-ray of our emotions and the mood of our songs is expressed through our songs. In short, music is the greatest creation of the inhabitants of our planet.
Psicólogo egresado de la Universidad del Norte, artista multifacético y creador de programas de músicoterapia en distintas clínicas de su natal Barranquilla, tanto en el campo clínico en pacientes con cuadros psicóticos como en el campo educativo y neuropsicológico en pacientes con diversos trastornos a nivel cerebral y conductual. Actualmente se encuentra trabajando en su primer libro "La Híper-Realidad" el cual surge de una recopilación de experiencias personales y espirituales bajo los efectos de Hongos de psilocibina, Ayahuasca y LSD
Calidades de presencia
A cargo de Vicky García: Abogada y especialista en Pedagogías de las diferencias, Lectora apasionada y Co fundadora de la Fundación Círculo Abierto
Relation of the experience that allowed the Fundación Círculo Abierto to support a way of accompanying, from the literary point of view, the maestras and maestros of Barranquilla and the Atlantic, in times of pandemic, indicating new ways of being present.
Co fundadora de Círculo Abierto. Avid reader. Abogada y especialista en Pedagogías de las diferencias. Experienced in the development of social work in which art is the way to access change. In charge of the creation and direction of projects in the foundation.
Migraciones Resilientes, un camino hacia la paz.
A Cargo de Olga Leones: Psicóloga social, experta en abordaje psicosocial y comunitario
With experience in communication strategies and social mobilisation for the control of TB and HIV and in differential attention to vulnerable populations in various segments of the population.
Fundadora y directora de la Corporación Pazaporte, organización sin ánimo de lucro que tiene como misión mitigar el estigma y la discriminación hacia población vulnerable a partir de un modelo de intervención holístico.
Relación de la Urbe con lo Rural (Cuál es más importante)
On behalf of: Yalmar Vargas, Director of Architecture, Urbanism and Design of the Universidad del Norte
Desafíos de la democracia
A cargo de: Alberto Madero, Decano de Derecho, Ciencia Política y Relaciones Internacionales de la Universidad del Norte.
La noche de las ideas se lleva a cabo en Barranquilla, gracias al trabajo conjunto de: La Alianza Francesa de Barranquilla, Instituto Francés, Fundación Circulo Abierto, Universidad del Norte, Fundación Pazaporte.