Rebuilding together: plants and people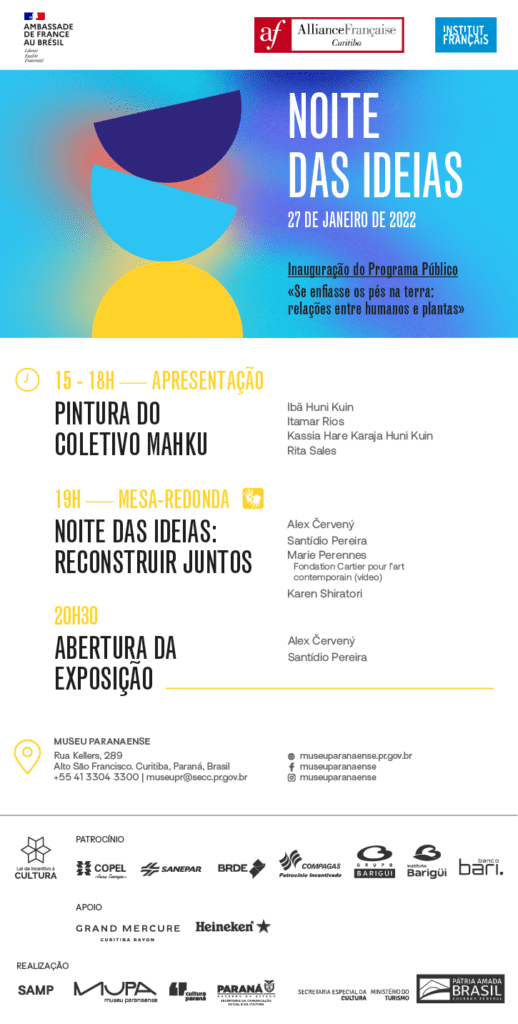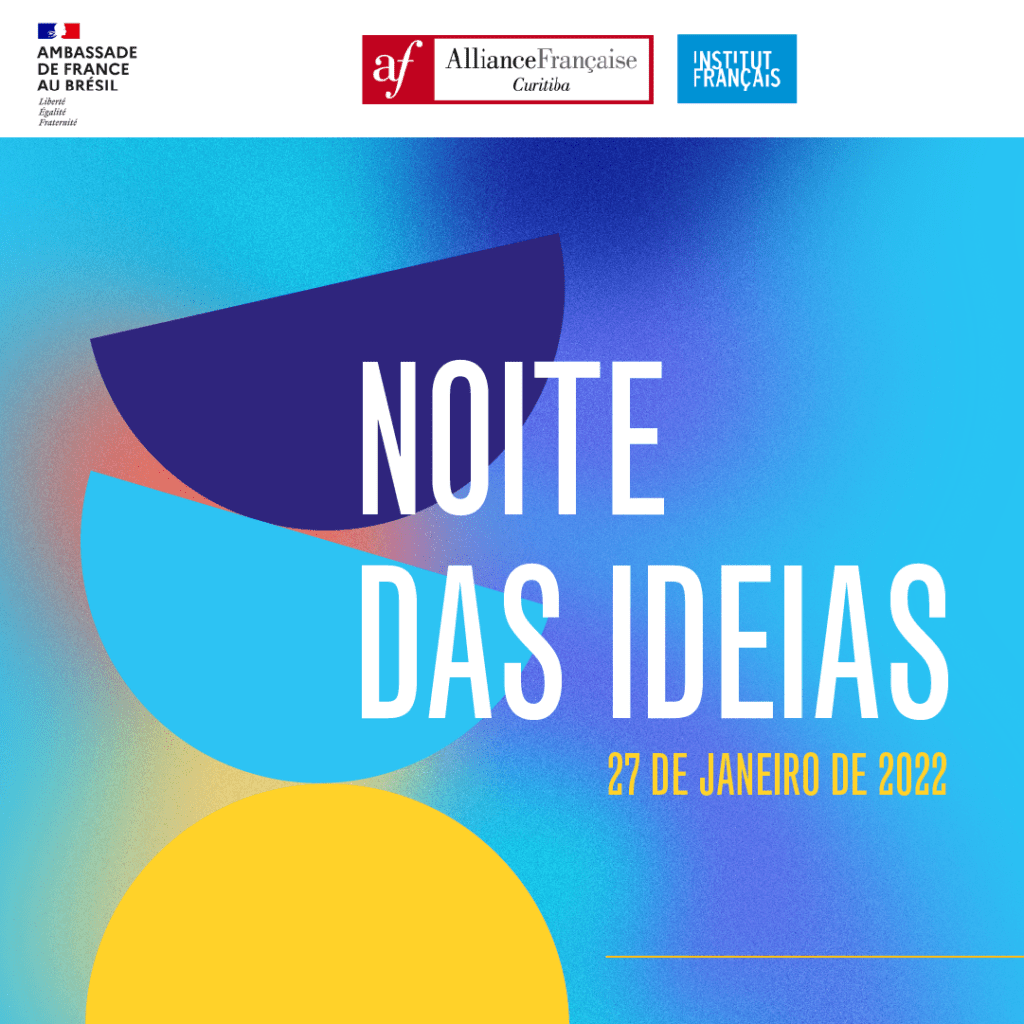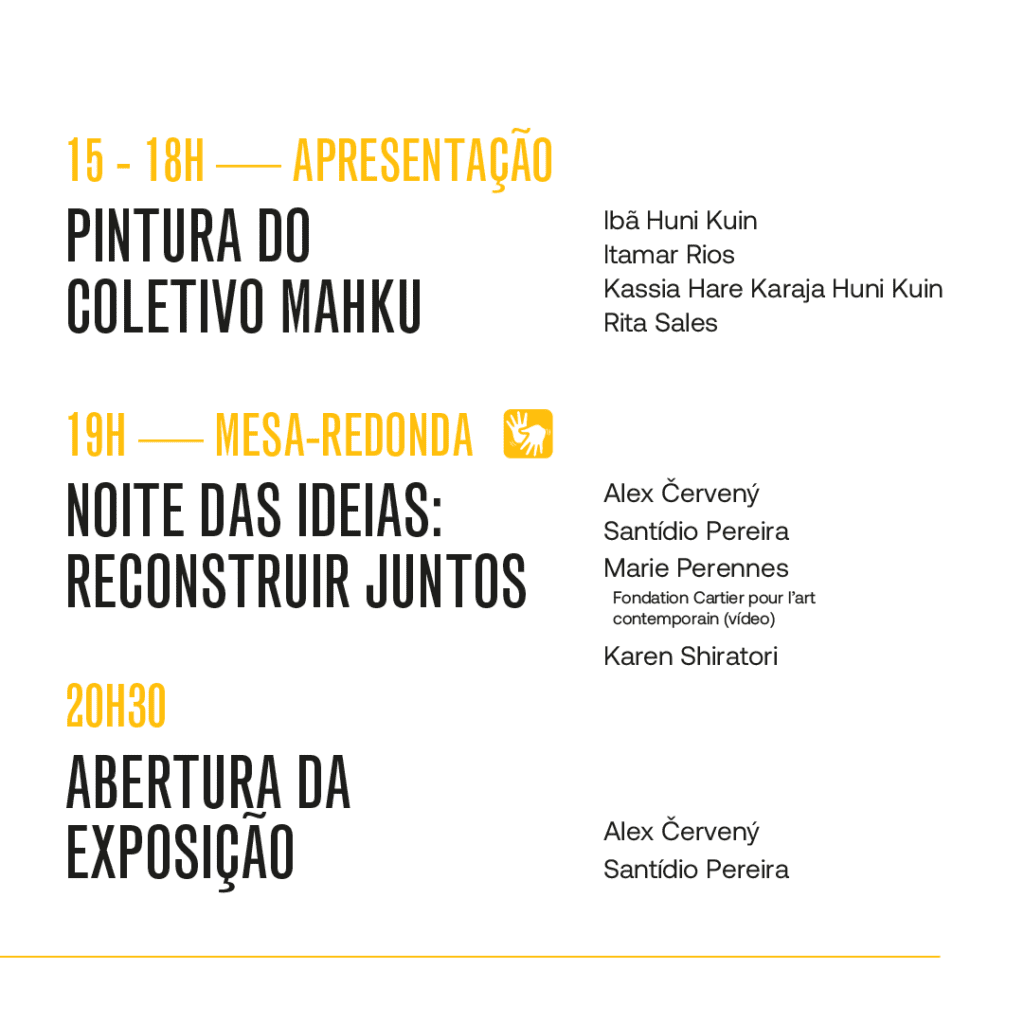 27/01/2022

Local:

3:00 pm


Paris:

7:00 pm

Paranaense Museum (MUPA) Paranaense Museum (MUPA), Curitiba, BR

Brazil

Portuguese
This will be the first edition in Curitiba. To integrate the Night of Ideas 2022, the Museo Paranaense(MUPA), an important transdisciplinary museum in the city (between archaeology, anthropology, history and contemporary art) and particularly dynamic, is organising, in partnership with the Alliance française de Curitiba, an important set of activities. These actions are part of the public programme "If I put my feet in the ground: the relationship between humans and plants", an experimental project of the MUPA which consists of a series of artistic, educational and cultural actions on the relationship between humans and plants.
The Night of Ideas 2022 at MUPA will begin in the garden with the painting of a large panel by the MAHKU collective, an indigenous group of the Huni Kuin people of Acre State. The painting will take place in the afternoon, from 3pm to 6pm. The indigenous collective, led by Isaías Sales, works from the convergence of two languages: the music of the traditional Huni Meka songs and drawing, seen as the visual translation of these songs.
In order to extend the reach of the proposal to audiences of different ages, during the MAHKU collective's painting in the MUPA garden, an educational activity will be organised for children and families. Children will also be encouraged to make a collective mural while observing the creation of the indigenous artists. The activity will be conducted by educators linked to the MUPA's public programme.
Afterwards, at 7pm, a roundtable discussion is planned with artists Alex Červený and Santídio Pereira, mediated by anthropologist Karen Shiratori and with the participation through a video recording of Marie Perennes (to be confirmed), curator and curator of the Fondation Cartier pour l'Art contemporain (who has already exhibited the MAHKU collective in the exhibition Histoires de voir in 2012; as well as Alex Červený and Santídio Pereira in Nous les arbres in 2019-2020). The guests will address issues related to nature, art and ecology. The round table will be held with simultaneous translation into sign language.
In addition to the round table, the Museu Paranaense space will exhibit a group of works by Pereira and Červený. The exhibition will be open from 27 January to 6 March.