How to rebuild a better Burundi?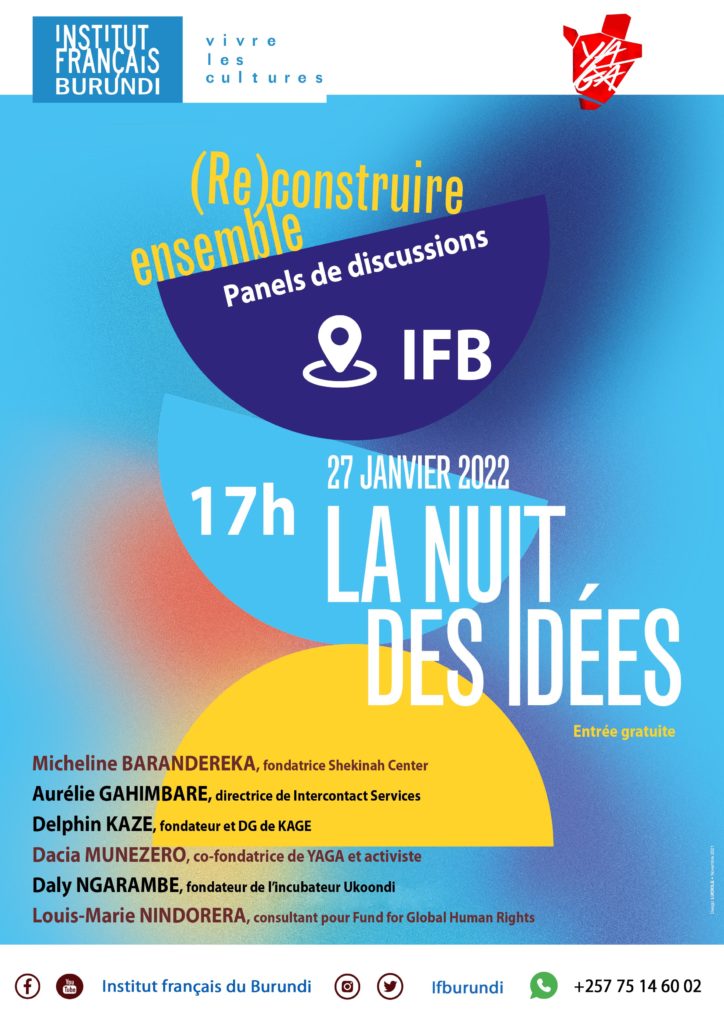 27/01/2022

Local:

5:00 pm


Paris:

4:00 pm

French Institute of Burundi, Bujumbura, BI

Burundi

French
In partnership with the bloggers' collective YAGA, the IFB is organising a panel on Thursday 27 January 2022 on the theme of "(Re)building together". Six personalities have been identified to take part in this panel. Each of the speakers will speak in his or her preferred field: education, ecology and sustainable development, human rights, human resources, rurality, and communication. These six personalities, from different social backgrounds, working in various fields, of different ages and genders, will each bring their points of view on the theme, through their respective disciplines. They will propose several axes and highlight the many challenges to be met, by answering this question:
How to rebuild a better Burundi through [discipline]?
Micheline BARANDEREKA, will answer this question through education. She is the founder of Shekinah Center, a school located in Rusaka, in the province of Mwaro. Based on the observation that in her home town, there are problems related to education that go beyond literacy, she decided to create a school, fully integrated into the community. In addition to the school programme, Shekinah School teaches children and their parents the basics of nutrition, hygiene, etc. Shekinah School aims to be a school of excellence, based on UNESCO standards, emphasising child-centred education, based on individual teaching and strengthening the relationship between teacher and student.
Delphin KAZE, will answer this question through sustainable development. He is the founder and managing director of KAGE (Kaze Green Economy): a social enterprise working in the promotion of green energy, contributing to the protection of the environment, the fight against deforestation but also to the creation of employment opportunities. By recycling biodegradable household waste (such as rice husks, maize cobs, or for example coffee stalks), KAGE creates briquettes that can replace firewood.
Dacia MUNEZERO will answer this question through her media and activist vision. She is a Burundian journalist and blogger, co-founder of YAGA. YAGA is a media, a local news website created in 2015, when the country was mired in a political and social crisis. Dacia is in charge of communication and monitoring and evaluation of YAGA's activities. In parallel, she is a digital activist, being very engaged on social networks. She produces videos to raise awareness of women's rights, advocating for the respect, emancipation and empowerment of Burundian women.
Louis-Marie NINDORERA will answer this question through his expertise on citizen participation. Using the simple example of road safety, he will address the issue of individual responsibility, through different aspects: psychological, legal, security or economic governance, for example.
Aurélie GAHIMBARE will answer this question through her expertise in human resources. She is the director of Intercontact Services, a company created in 1982, offering various services: real estate, human resources, recruitment. She will discuss how human capital is exploited, the opportunities for young graduates entering the labour market, the role of the education system in the labour market, etc.
Daly NGARAMNE will answer this question through his expertise in supporting young businesses in rural areas. He is the founder of the Ukoondi incubator, and will share his experiences to present a picture of the skills that populate our countryside and the keys to unlocking their potential.
In addition to the testimonies of these personalities, the public will also have a large place to exchange with the panellists.
The discussion will be moderated by Yves IRAKOZE, a young civil society activist and journalist for YAGA.
Course of events:
17.00 - 17.15 Public welcome
17.15 - 17.20 IFB speeches
17.20 - 17.25 YAGA speech
17.25 - 17.35 Introduction of the moderator
17:35 - 18:05 Testimonies of the first three panellists
18:05 - 19:00 Panel 1: exchanges between the first three panellists, the audience and the moderator
19:00 - 19:30 Testimonies from the other three panellists
19:30 - 20:30 Panel 2: exchanges between the three other panellists, the audience and the moderator
8.30 - 8.35 pm Closing
Partners