(Re)building together: 5th edition of the Night of Ideas in Taipei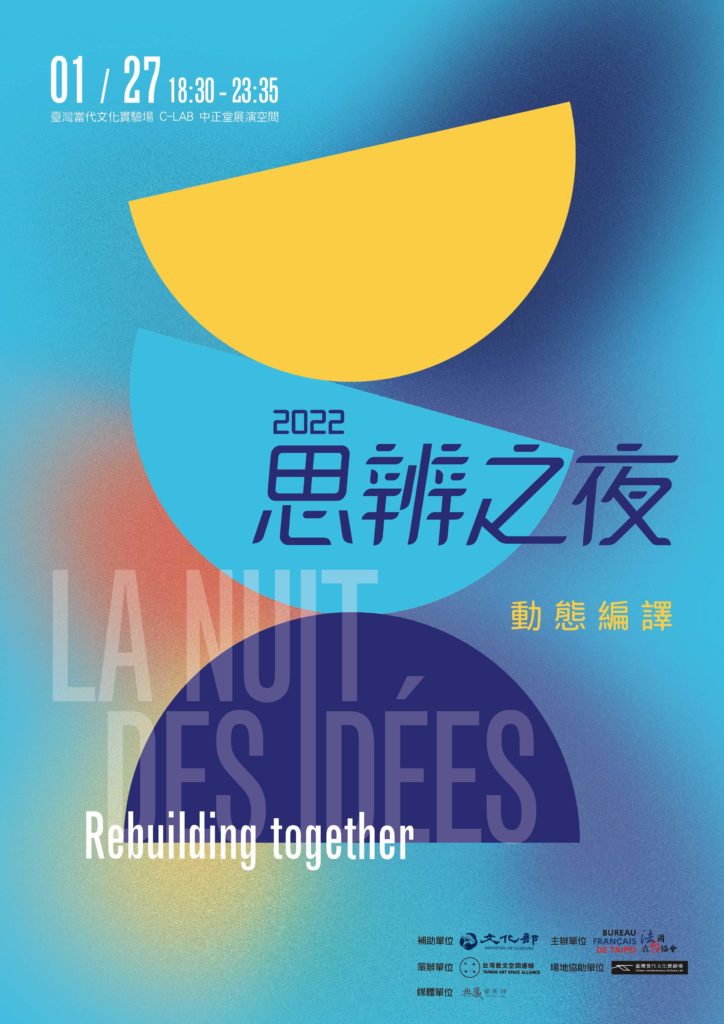 27/01/2022

Local:

6:30 pm


Paris:

11:30 am

Taiwan Contemporary Culture Lab (C-LAB) No. 177, Section 1, Jianguo S Rd, Da'an District, Taipei city, TW

Taiwan

Mandarin / French
For its 5th edition in Taiwan, the Night of Ideas invites us all this year to explore together the forms of resilience and the possible reconstructions of societies confronted with singular challenges, the solidarity and cooperation between individuals, groups and States, the mobilisation of civil societies and the stakes of a (re)construction.
In a world paralysed by the pandemic, marked by the closure of borders and the generalisation of tracking devices, crucial questions arise about borders, the role of civil society and citizens' rights.
On the programme of the Night of Ideas organised this Thursday 27 January at C-Lab from 6.30 p.m., meetings between experts and discussion circles in which you are invited to take part to debate the redefinition of a post COVID-19 world.
Panel 1 "Borders and restrictions
- Jean-Yves HEURTEBISE, Associate Professor, Department of French Language and Literature, Fu Jen Catholic University
- Mindi World News, youtuber
Panel 2 "Referendum & Democracy
- Kris CHU, writer
- Frank MUYARD, Associate Professor, Department of French, National Central University (NCU)
Round Table 3 "Protecting citizens' rights
- Pierre GOULANGE, Press and Communication Policy Advisor, French Office in Taipei
- Franklin WENG, President of Software Liberty Association of Taiwan
Online registration here: https://forms.gle/knqyDgZiuKWj3TFj7