(Re)building together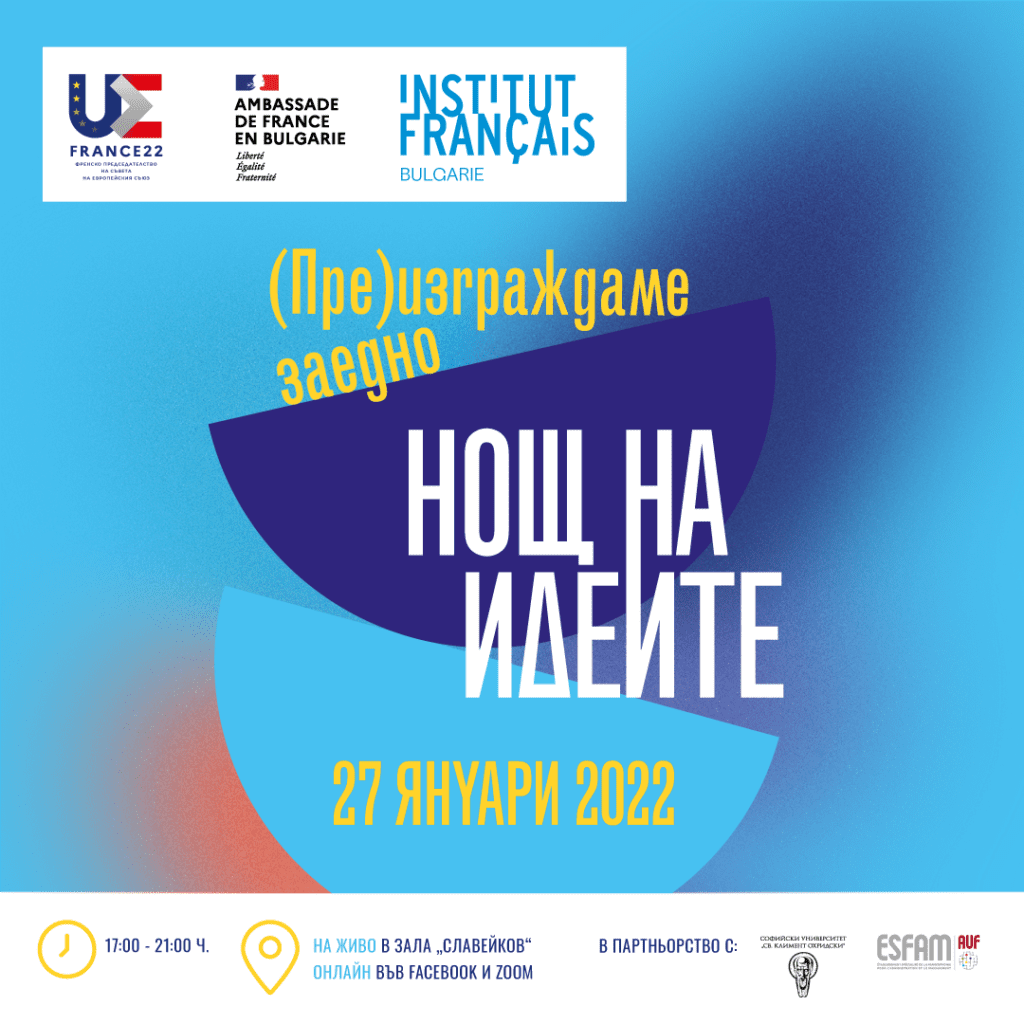 27/01/2022

Local:

5:00 pm


Paris:

4:00 pm

French Institute of Bulgaria, 3 Slaveykov Square, Sofia, BG

Bulgaria

French / Bulgarian / Polish
The theme of the 2022 edition of the Night of Ideas has been chosen to explore the resilience and reconstruction of societies facing singular challenges, the mobilisation of civil societies and the issues of construction and fabrication of our objects. Three debates will therefore focus on the theme of reconstruction in a post-COVID world.
The Event marks the beginning of the French Presidency of the Council of the European Union in Bulgaria.
After the shock of the Covid-19 pandemic that stunned, strained or resiliated individuals in societies all over the world; that destroyed the status quo of our normal daily life, and that challenged economic, social and individual development, that dissipated dreams and bonds; after the alarming data of the ecological state of our planet and the full-blown climate anomalies bringing out gloomy predictions about our nearest future, for our generation...
...we face it with all our means to avoid irreversible consequences and to get out of it, each for himself, but all together, and to get back on the right track.
Through this event, the French Institute of Bulgaria contributes to the reflection and exchange of expertise in several fields. Ecologist, politician, political scientist, psychologist, activist, sociologist, economist, businesswoman, philosopher, journalist, expert in social psychology: all our speakers will contribute to put an interactive focus on these societal problems that challenge us, by exchanging approaches and means to remedy them, and this in the immediate future!
Let's look inside ourselves, then look in the mirror of society where each Self contributes to its entity and is part of the evolutionary process, let's analyse what has happened, where we are and what we have to build together!
Participants:
Ms Ildiko Otova is a doctor of Political Science from the New Bulgarian University, winner of the Charles Moser Scholarship for outstanding achievement in the field of political science. She specialised at the National School of Administration (ENA), France. She has been involved in numerous projects at national and international level in the field of migration and refugee issues, urban policies and citizenship, extreme right-wing populism and extremism.
Mr. Marcel Jaeger, professor emeritus, former holder of the chair of Social Work and Social Intervention at CNAM, has been a member of Lise since 2003. On 23 June 2021, Marcel Jaeger was elected President of the National Union of Actors for Training and Research in Social Intervention (Unaforis).
Adam Michnik is a historian, essayist, political journalist and editor-in-chief of the Polish newspaper Gazeta Wyborcza. Between 1968 and 1989, he was one of the main activists of the democratic opposition considered illegal by the People's Republic of Poland. In 1964, he began studying history at Warsaw University. Suspended from the University twice for political reasons, he was expelled after the demonstrations in March 1968. He was sentenced to three years in prison.
Mr Tony Nikolov is a Bulgarian philosopher and journalist. He is the editor-in-chief of the Culture portal and the Culture magazine. He specialised in the Pontifical Oriental Institute in Rome and in the School of Humanities and Social Sciences (Paris), in the group of Professor Jacques le Goff. He is a member of the International Society for the Study of Medieval Philosophy (S.I.E.P.M.) in Leuven. From 2005 to 2009, he was the editor-in-chief of Radio France Internationale, Bulgaria.
Mr. Ivan Krastev is a Bulgarian political scientist, researcher and author. He is the president of the think-thank Center for Liberal Strategies in Sofia. After studying philosophy at Sofia University of St. Clement of Ohrid, Ivan Krastev completed a one-year specialisation at St. Antony's College, Oxford University, on an Open Society scholarship. He is a researcher at the Institute for the Humanities in Vienna (IWM Vienna), a founding member of the European Council on Foreign Relations (ECFR) (2007), and a member of the Board of the Erste Foundation.
Jean-Claude Mensch is mayor of Ungersheim and former vice-president in charge of sustainable development of the Mulhouse Alsace agglomeration. 70% of his mandate was re-elected in 2020 for a sixth term as mayor. Under Jean-Claude Mensch's tenure, Ungersheim (2,400 inhabitants, Grand-Est region) has reduced its public lighting consumption by 50%, cut its CO2 emissions by 600 tonnes per year and created 130 jobs. The school canteen now provides 100% organic food supplied by a social integration garden and a local market garden.
Sasha Bezuhanova, philanthropist and angel investor in sustainable startups, has twenty years of experience in private sector (HP) leadership positions and a multi-dimensional track record of serving society. She is founder and president ofMOVE.BG, a non-partisan collaborative platform for finding sustainable political, economic and social solutions through innovation, participation and co-creation.
Julian Popov is a member of the European Climate Foundation, President of the Building Performance Institute Europe and former Minister of Environment of Bulgaria. He was Bulgaria's Goodwill Ambassador for energy and climate policy and advisor on energy security to the President of Bulgaria. Mr Popov is a member of the European Council on Foreign Relations (ECFR), the advisory board of Climate KIC and the boards of several other energy and climate organisations.