European Night of Ideas in Switzerland: what resilience in Europe?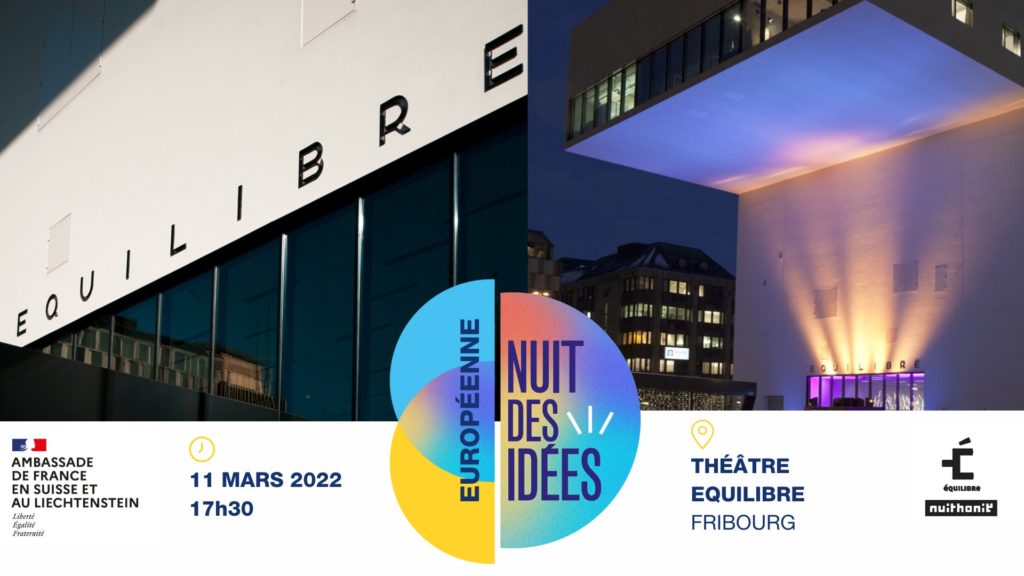 11/03/2022

Local:

5:30 pm


Paris:

5:30 pm

Théâtre Equilibre Place Jean-Tinguely, 11700 Fribourg, CH

Switzerland

French
The French Embassy in Switzerland and Liechtenstein is organising a Swiss edition of the Night of Ideas 2022 on Friday 11 March from 5.30 p.m. at the Théâtre Equilibre, Fribourg, on the theme of crisis resilience.
Resilience refers to the ability not only to face and overcome challenges, but also to undergo transitions in a sustainable, equitable and democratic way. What resilience in Europe in the context of health, social and climate crises?
Programme of the Night of Ideas, 2022 edition in Fribourg 
5.30 pm: round table
What resilience in Europe in the face of health, social and climate crises?
Speakers:
Julien Riou, epidemiologist at the University of Bern
Laurent Durieux, Sustainable Development Goals Coordinator of the Group on Earth Observation (GEO, Geneva)
Sophie Le Garrec, sociologist, professor at the University of Fribourg
Moderator: Catherine Mary, doctor of virology and scientific journalist, contributor to the newspapers Le Monde and Le Temps.
8pm: show "les hauts plateaux" by Mathurin Bolze / Cie MPTA
A major figure in contemporary European circus, Mathurin Bolze takes us on a post-catastrophe journey between heaven and earth with 7 performers.
9.30 pm: meeting with the scientists and artists over an aperitif