Night of Ideas Halifax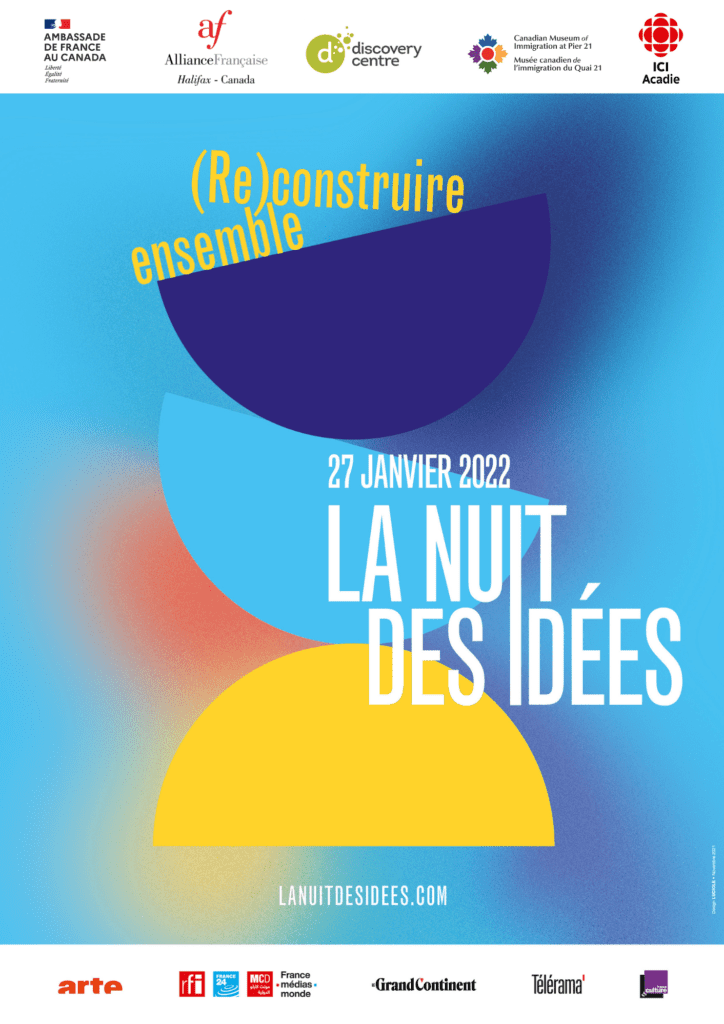 28/01/2022

Local:

18:30


Paris:

23:30

Alliance Française halifax 5509 Young Street NS B3K 1Z7, Halifax, CA

Canada

French / English
Event organised as part of the Night of Ideas in Canada.
Thursday 27 January 2022 at 6.30pm (HDA)
Online - bilingual - free
Online seminar on the Zoom platform and live broadcast on social networks.
1/ "(Re)building together: climate change, linking today and tomorrow
Virtual round table - 18:30 (HDA)
This round table will address the issue of resilience to the environmental crisis and exit processes. The three panellists will each bring their own perspective: political and societal, legal and juridical, and economic and industrial.
- Juliana Barnard is an elected member of Truro City Council and is proposing a platform for sustainable development. Juliana is also a founding member of the Living Earth Council, an environmental non-profit organisation working in Truro, and is the School-Community Development Officer for the Conseil scolaire acadien provincial.
- Tina Northrup is a staff lawyer for the East Coast Environmental Law Association, a charitable organization that provides public interest environmental law services throughout Atlantic Canada.
- Dr. Antoine Sautenet is Director of Public Relations for Michelin Canada. Responsible for government affairs in Europe, Asia and North America, since 2019 he has been in charge of sustainable mobility for the group, through the Movin'On project, as well as international trade. He represents the company's issues, including the development of new sectors such as hydrogen in Canada.
Nathalie Geddry, journalist for Radio Canada, will moderate the event. After a long career as a cultural journalist, Nathalie Geddry hosts and produces the daily program La mouvée, which is heard in Nova Scotia, Prince Edward Island and Newfoundland.
2/ "(Re)building Sustainably
School workshops with the Discovery Centre:
"Think Global, Act Local", what actions can we take? The Discovery Centre team offers students an interactive exploration of climate action. This workshop is offered to schools in the English and French districts of Nova Scotia and is held virtually the week of the Night of Ideas.
For its fourth edition in Nova Scotia, the Night of Ideas is presented by the Alliance Française Halifax, the Consulate General of France in the Atlantic Provinces, the Discovery Centre and the Canadian Museum of Immigration at Pier 21, with the support of the French Embassy in Canada.