Noche de las Ideas en Argentina - Estar cerca, estar juntos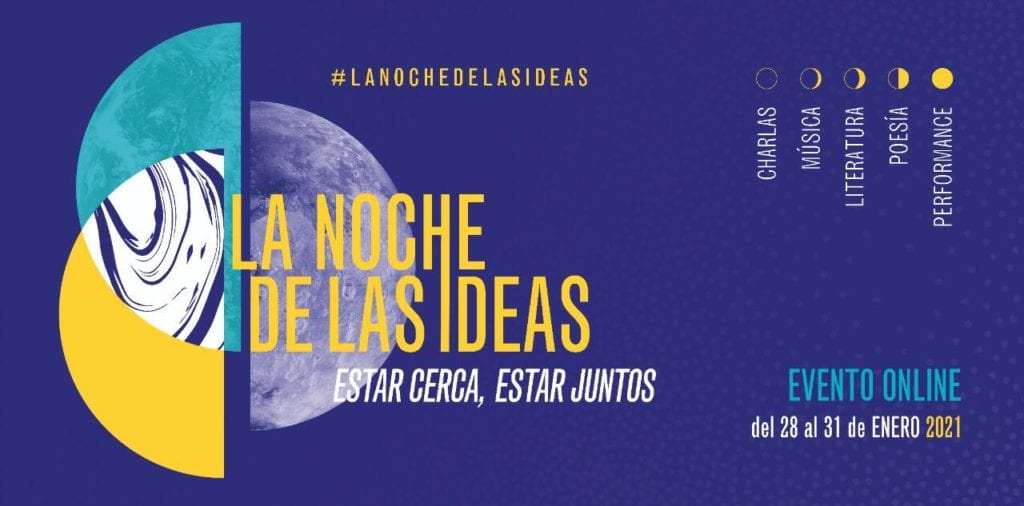 28/01/2021

Local:

7:00 pm


Paris:

11:00 pm

La Usina Social Jujuy 2844, Rosario, Santa Fe, Argentina, Rosario, AR

Argentina

Spanish / French
This fifth edition will be organized in a context marked by the Covid 19 pandemic and its consequences. In particular, this year we cannot receive French-speaking guests in Argentina. We will therefore continue a certain tradition but in a reinvented way: for the first time, the event will be deployed on a dedicated website. This site will transmit content produced in Buenos Aires and in different provinces, and even beyond, since we are also taking part in the Andean Night of Ideas, organized by the French Embassy in Ecuador in collaboration with the French Embassies in Colombia and Venezuela. Likewise, we will create a bridge with the Night of Ideas produced in the cultural network of France in the United States, through the intervention of a performer, and we will participate in the 24hs live organized by the French Institute.
As every year, our leitmotiv will be to offer a diversified program that associates prestigious intellectuals and artists as well as young Argentinean and French talents. For this edition, twenty different spaces (museums, cultural centres, universities, but also open-air places in the city of Buenos Aires and in the provinces) are actively collaborating and we have twenty confirmed French personalities.
During four nights, conferences, round tables, shows and concerts will be offered to the public on our dedicated website.
The emblematic cities of the event, Ostend and Mar del Plata, will be present but activities will also be offered in Rosario, Mendoza and Cordoba.
The project will run over 4 days from 28/01/2021 to 31/01/2021 on the dedicated website from 19h to 23h. As for the face-to-face activities, they will take place at various times.
The interveners are as follows:
Paz NÚÑEZ REGUEIRO, museologist and historian
Diego GOLOMBEK, biologist
Michel LUSSAULT, geographer
Angéla LUGRIN, novelist
Luciana DE MELLO, novelist
Sarah AL MATARY, professor of literature
Quentin FAUCOMPRÉ, draftsman
Miguel REP, draftsman
Roxana SALPETER, Director of the "Viejo Hostel Ostend
Belén PASQUALINI, actress
Delia CANCELA, contemporary artist (Nosotras Cautivas)
Celeste LEEUWENBURG, contemporary artist (Nosotras Cautivas)
Julia NOWODWORSKI, contemporary artist (Nosotras Cautivas)
Paola CORTÉS ROCCA, art teacher
Cora GAMARNIK, sociologist
Esteban FEUNE DE COLOMBI, artist
Alejandro BROWN, Biologist
Erica PULIDO, architect
Bárbara GASPARRI, specialist in environmental management
Sebastián CIVALLERO, Engineer
Vincent MACAIGNE, actor
Daniela HOROVITZ, musician and actress
Jean-Christophe HAMILTON, astronomer
Elsa BOYER, writer
Eric VALETTE, visual artist
Anne LAFORÊT, digital arts researcher (Collectif Roberte La Rousse)
Cécile BABIOLE, visual artist (Collectif Roberte La Rousse)
Diana WESCHLER, art historian
Alexandre ROIG, sociologist
Serge TISSERON, psychiatrist
Vale CINI, musician
Pablo LA PADULA, biologist and visual artist
Rodolphe HOGUIN, archaeologist
Paula BRUNO, historian
Florencia TOLA, anthropologist (Noche de Las Ideas Andina)
Anne-Gaël BILHAUT, anthropologist (Noche de Las Ideas Andina)
Fernanda MUGICA, Professor of Literature
Marilu MARINI, actress
Silvia HOPENHAYN, writer
Alvaro SIERRA, director/journalist for France 24
Ezequiel FERNÁNDEZ MOORES, sports journalist
Alejandro KATZ, Editor in Chief
Alejandra KORSTANJE, Archaeologist
Daniela HOROVITZ, musician and actress
Pablo ORTEMBERG, historian
Gabriel Di MEGLIO, historian
Mariana LARISON, philosopher
Diego ESCOLAR, anthropologist
KILLOFFER, draftsman
Fabiana BUGLIANI, archaeologist (Noche de Las Ideas Andina)
Misha VALLEJO, artist and audiovisual narrator (Noche de Las Ideas Andina)
Lucía DURÁN, Director of the Pre-Columbian Art Museum Casa del Alabado (Noche de Las Ideas Andina)
Fanny ROSE, musician
Pablo MAURETTE, essayist
Tania DE MONTAIGNE, actress (reading in a podcast a chapter of "World History of France")
Vincent VANOLI, draftsman
Mathilde LARRÈRE, historian
Juan Carlos FERNICOLA, Paleontologist
Quentin GAREL, plastic artist
François PUJOS, paleontologist
Analia FORASIEPI, paleontologist
Olivier FERTEL, draftsman
Claudia ROMERO, education specialist
Olivier MINOT, host (ARTE RADIO)
Silvia HOPENHAYN, writer
Fernando ANDRADE, agricultural engineer
Luis AGUIRREZABAL, Agricultural Engineer
Lucas MARTIN, political scientist
Karen GARROTE, poet
Moira CRISTIA, historian (Red Memoria Abierta)