Near and far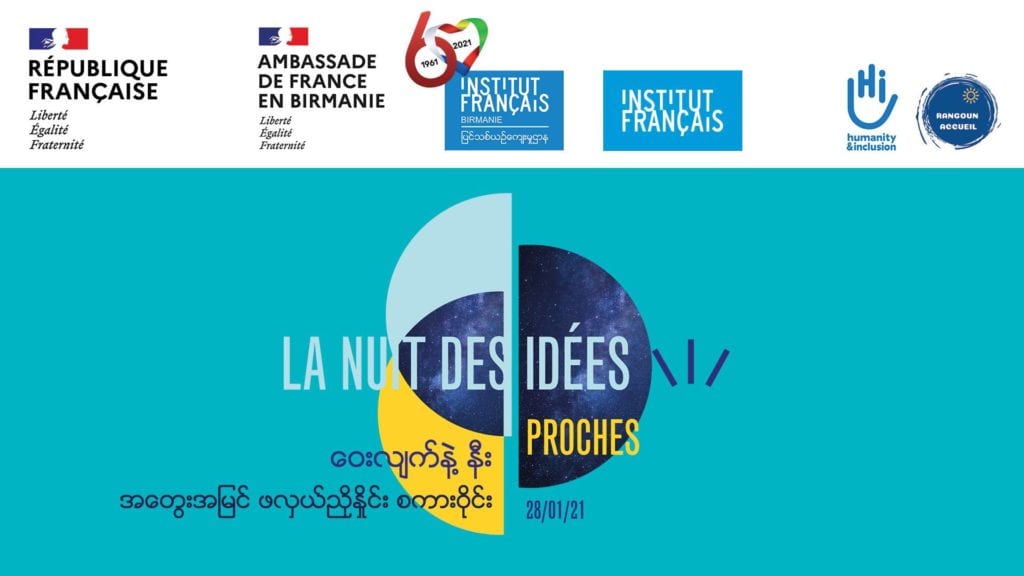 26/01/2021

Local:

2:00 pm


Paris:

8:30 am

Institut Français de Birmanie 340, Pyay Road, Rangoon, Messrs.

Myanmar

Burmese / French
The Night of Ideas events will take place exclusively online.
-Studies in France Tuesday 25 January - 2pm
Online FB@Birmanie.if
Videos of Burmese students from Campus France talking about their study experience in France.
- Video interview with Burmese activists Wednesday 27 January - 2pm
Online FB@Birmanie.if
Interviews with activists and humanitarian organizations that had to adapt their practices to deal with the Covid-19 pandemic.
-Philosophical walk Thursday 27 January - 2pm
Online FB@Birmanie.if
Philosophical walk filmed in collaboration with the French-Colombian philosopher Lucas Andrés RESTREPO ORREGO around the rediscovery of the "encounter with the world" during the planetary experience of "confinement".
-24h Night of Ideas live Thursday 28th January - 2.30pm
Online FB@Birmanie.if
At a time when the global health crisis is restricting international gatherings and mobility of people, the French Institute will offer everyone the opportunity to follow and participate in a unique digital experience, 24h of Night and Ideas, which will cross time zones from Oceania to the West Coast of the United States, promote the free circulation of ideas and knowledge and make local experiences resonate in a great global live broadcast on social networks.
Full programme here: https: //www.lanuitdesidees.com/la-nuit-en-live/
-Launch of the "Close" idea laboratory and exchanges Thursday, January 28th
3:00 pm In person at the IFB with French SHS researchers working on Burma.
-Disability Awareness Workshop Thursday 28 January - 5 and 6 pm
Online FB@Birmanie.if
Online participatory workshop, in partnership with the NGO Humanity and Inclusion on disability issues in Burma.
Registration is possible here: https: //docs.google.com/forms/d/e/1FAIpQLSf8zlLW5DPLyk3tvcOjW-Pu6a9vJ-p7oOcM1Go6eQ1X2RfqaQ/viewform
-Online Photo Exhibition Friday, January 29th - 2pm
Online FB@Birmanie.if
Online photo exhibition of the photography club of Rangoon Accueil around the theme Nearby