Night of Ideas Madrid - "(Re)building together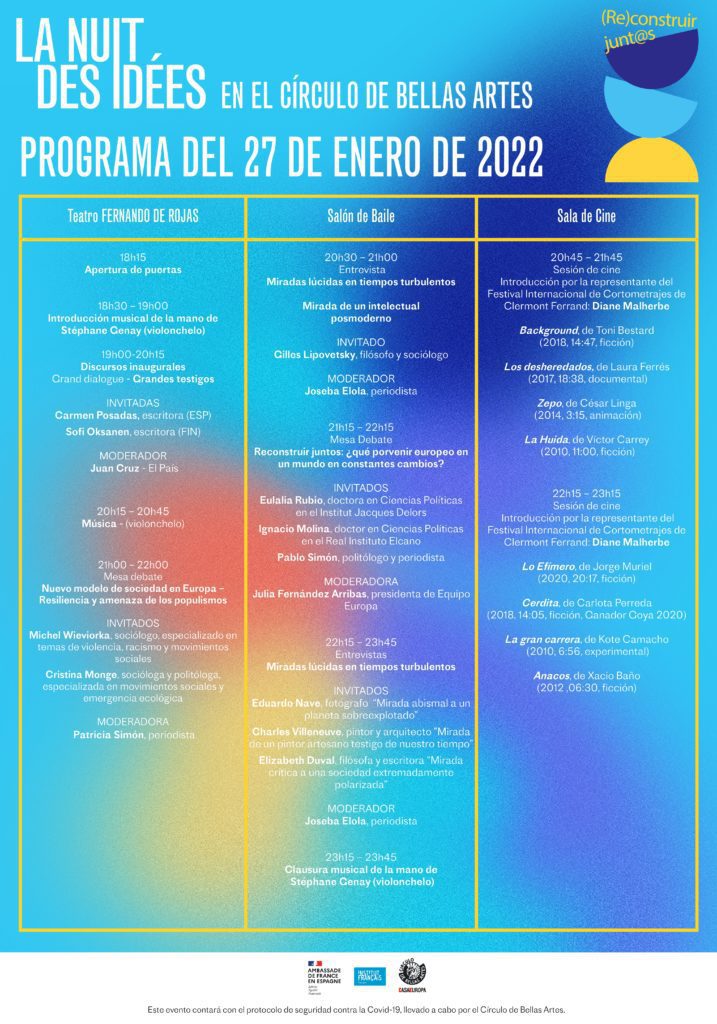 27/01/2022

Local:

18:15


Paris:

18:15

42 Calle de Alcalá Círculo de Bellas Artes, Madrid, ES

Spain

French / español
Por séptimo año consecutivo, el Institut français de Madrid propone te participar en La Noche de las Ideas, que en esta ocasión tendrá lugar el jueves 27 de enero de 18h30 a 23h45 en el Círculo de Bellas Artes de Madrid (C/ Alcalá, 42).
¡Ven a celebrar con nosotr@s una noche dedicada a la diversidad de ideas, culturas y a la riqueza del pensamiento contemporáneo! Para esta septima edición de La Noche de las ideas, el Institut français de Madrid y el Círculo de Bellas Artes reunirán a pensador@s, escritor@s, artistas y ciudadan@s con un objetivo común: reflexionar sobre una reconstrucción de nuestras sociedades y promover junt@s una Europa más cercana, representativa y democrática, desde y para la ciudadanía, capaz de hacer frente a los desafíos actuales. Para ello contaremos con la participación de intelectuales y artistas de diversos horizontes, como las escritoras Carmen Posadas y Sofi Oksanen, el sociólogo Michel Wieviorka, el filósofo Gilles Lipovetsky, la filósofa y escritora Elizabeth Duval, los politólogos Pablo Simón e Ignacio Molina, la socióloga y politóloga Cristina Monge, el fotógrafo Eduardo Nave, el pintor y arquitecto Charles Villeneuve, l@s periodistas Patricia Simón y Joseba Elola... and much more! En estos tiempos turbulentos de crisis sanitaria, políticas públicas maltratadas y crispación social, comparte con nosotros una noche de diálogo en la que no faltarán momentos festivos, música en directo, proyección de cortometrajes y, por supuesto, libros sin moderación.
Apunta bien la fecha en tu agenda. Es la fiesta de las ideas y ¡las tuyas son imprescindibles!
In French, Spanish and English, with simultaneous translation.
Gran diálogo "Grandes testigos/Grands témoins
En 2022, la Noche de las Ideas estará marcada por la Presidencia francesa del Consejo de la Unión Europea (PFUE). En esta ocasión, en toda la UE, 13 grandes diálogos reunirán a destacados intelectuales del mundo del arte, la literatura, la ciencia, el periodismo y el compromiso. In capitals from all over the continent, they will compare their perspectives on Europe, its cultures, its challenges and its opportunities. In collaboration with the magazine Le Grand Continent, this operation will be accompanied by the publication of texts by some of these intellectuals or transcriptions of these debates during the whole of the EUFP.
In Spain, the Uruguaya writer Carmen Posadas will talk to the Finnish writer Sofi Oksanen. The two authors, both from migrant families and bearers of multinational identities, will discuss their relationship with the past and the importance of historical memory in their work. Juntas debatirán el papel que la cultura ha desempeñado en su propia construcción y en la construcción de Europa, como espacio que valora tanto el patrimonio común como la diversidad. Lastly, as women of opinion, we will tell you how they have found their place as women in literature, in their own country and in Europe.
Juan Cruz of El País will moderate the meeting.
20h30-21h: Miradas lúcidas en tiempos turbulentos
Interview with Gilles Lipovetsky: "Mirada de un intelectual posmoderno
Pocas plumas diseccionan la época en que vivimos con la lucidez de Gilles Lipovetsky. Con la precisión de un neurocirujano, el intelectual francés examinina desde hace décadas las mutaciones modernas de nuestras sociedades, lacradas por un narcisismo e individualismo crecientes.
In his last essay, Le sacré de l'authenticité (Gallimard, 2021), the thinker attacks contemporary fetishism by means of "autenticity", understood as a concept more appropriate to marketing than to philosophy. La nueva "autenticidad", asociada al consumo de productos "naturales", al derecho a "autorrealizarse" a "cargar las pilas", a "revitalizarse" y, en definitiva, a un "bienestar" constreñido al consumismo, lleva a la cima del individualismo al hombre posmoderno.
If we add to this the current context of health crisis and the obligatory physical distance that we face, how can we combat social apathy in order to rebuild unity? How can we regenerate the feeling of community? We invite you to learn about the ideas of the prestigious French intellectual, Joseba Elola, a periodist for El País
20:45-21:45: First screening
En el marco de la Noche de las Ideas, se proyectarán en el cine del Círculo de Bellas Artes ocho cortometrajes españoles seleccionados por el Festival Internacional de Cortometrajes de Clermont Ferrand. Se organizarán dos sesiones, una a las 20:45hs y otra a las 22:15hs, con cortometrajes diversos. Presentation by Diane Malherbe of the festival.
9-10pm: Mesa redonda-Para un nuevo modelo de sociedad en Europa - Resiliencia y amenaza de los populismos
Cristina Monge Lasierra, professor of Sociology at the University of Zaragoza and at the UNED, and Michel Wieviorka, director of studies at the School of Advanced Studies in Social Sciences (EHESS) and specialist in the study of violence and social movements, will participate in a round table discussion moderated by Patricia Simón.
Mientras las interacciones sociales se ven alteradas por la crisis sanitaria que parte de los ciudadanos europeos ponen en entredicho, las instituciones políticas y su representatividad se quedan sin aliento y dejan paso a la inmediatez de las redes sociales, poniendo en riesgo el acceso a la información. Los ponentes se debatirán sobre la capacidad de las sociedades europeas para consolidar la convivencia y permitir la expresión democrática.
21h15-22h15: Mesa redonda "¿Reconstruir juntos: qué porvenir europeo en un mundo en constantes cambios?"
Contaremos con la participación de Eulalia Rubio, investigadora del Institut Jacques Delors, Ignacio Molina, investigador en el Instituto Elcano y Pablo Simón, doctor en ciencias políticas, moderado por Julia Fernandez Arribas, actual presidenta de la asociación juvenil Equipo Europa.
In the face of the multiple crises that affect it, whether they be health, environmental, economic, political or security-related, Europe is weakened and has to constantly adapt in an effective manner. A complex challenge to which we add a lack of confidence in the institutions and a desire for an organisation with complex mechanisms. In this context, how can we build a more united and civilised Europe capable of facing up to the major contemporary challenges? More specifically, how can the new generations deal with European issues and be at the origin of the proposals for rebuilding a better Europe?
22:15-23:45: Miradas lúcidas en tiempos turbulentos
Interviews with Eduardo Nave, Charles Villeneuve and Elizabeth Duval
Decía María Zambrano said that art seems to be the way to overcome or persevere in the gap left by a lost form of existence. In these times of uncertainty and lack of reliable references on the situation we are facing, the quote from the Malagasy filosofa has a vital meaning. We are more than ever aware of the vision of artists and thinkers to interpret the present and describe the world that is coming. Is ethics the aesthetics of the future?
En esta segunda sesión de entrevistas "Miradas lúcidas" contaremos con la participación de Eduardo Nave, uno de los fotógrafos españoles más consolidados de su generación, el arquitecto, diseñador y pintor francés Charles Villeneuve, y la jovencísima y brillante filósofa y escritora Elizabeth Duval. Three approaches of different levels to the present dangers and the role of art and culture in the reconstruction of the community.
In conversation with Joseba Elola, periodista El País.
Musical interventions by Stéphane Genay
La Noche de las Ideas will be marked by the musical interventions of the violinist Stéphane Genay at the beginning of the dance, at 6:30 pm, then at 8:15 pm in the theatre and finally to close the dance, at 11:15 pm, in the Salón de Baile.
Partners