The Night of Ideas at the Franco-Guinean Cultural Centre with Felwine Sarr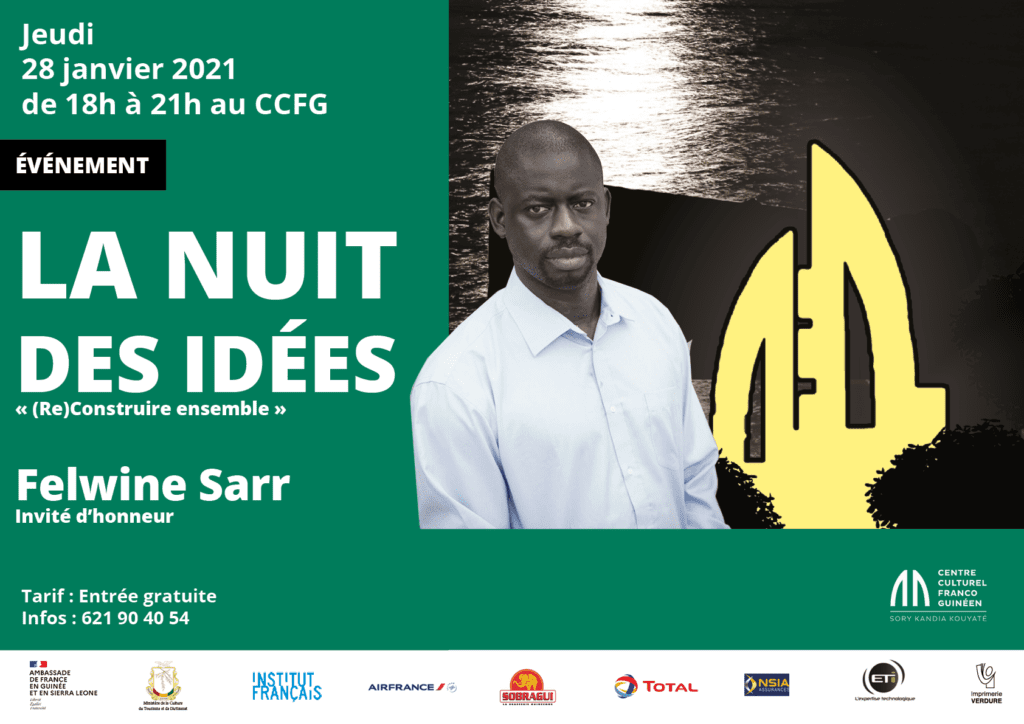 28/01/2022

Local:

18h00


Paris:

21h00

Centre Culturel Franco Guinéen, Pont du 8 Novembre, GN

Guinea

French
The Night of Ideas is back at the beginning of the year, with the theme: (Re)Building together. An opportunity to meet again under the CCFG's palaver tree to debate and celebrate thought and intelligence together.
This theme invites the Conakryka to explore numerous issues. Among them: What are the contemporary conceptions of the collective and of living together, in the face of withdrawal and identity assignments? How can we be resilient in the face of crises? How can we 'manufacture' in the face of social and environmental upheaval? Is a renewed social pact possible? A vast programme, in which the CCFG will involve you through an original device, allowing you to put your brain, your creativity and your good humour at the service of thought, in the company of the intellectual Felwine Sarr and the musician... Felwine Sarr!
Born in 1972 in Niodior, Senegal, Felwine Sarr pursued his higher education in France at the University of Orleans, where he obtained a doctorate in economics in 2006. He taught at the Gaston Berger University in Saint-Louis, Senegal, from 2007 to 2020. His courses and academic work focus on economic policy, development economics, econometrics, epistemology and the history of religious ideas. In the fall of 2020, he joined Duke University in the United States to teach contemporary and diasporic African philosophy. An economist and philosopher, but also an essayist, novelist, playwright, poet and musician, he has published numerous books, including Afrotopia (2016), which was published in several languages and had a worldwide impact. With Senegalese writers Boubacar Boris Diop and Nafissatou Dia, he is the co-founder of the publishing house Jimsaan, which published the Goncourt 2021 La Plus Secrète Mémoire des hommes. In 2016, with Achille Mbembé, he organised the Dakar and Saint-Louis Thinking Workshops, which have since brought together researchers, artists and civil society actors every year to think about the challenges facing the African continent and the world. A key intellectual in the international debate, Felwine Sarr is also a musician. Author, composer and performer, guitarist and percussionist, Felwine Sarr composed and wrote for Dolé, the African reggae group he founded in 1993, with which he gave more than five hundred concerts and produced two albums, Civilisation ou barbarie (2000) and Les Mots du récit (2005), before recording a solo opus, Bassaï, which was more intimate, in 2007.
This world-renowned Senegalese intellectual will participate this year in the Night of Ideas, at the joint invitation of the CCFG and the Laborato'Art company!
Thursday 27 January from 6pm to 9pm
Free admission