From Gossip to conspiracy - AI and fake news: a dangerous mix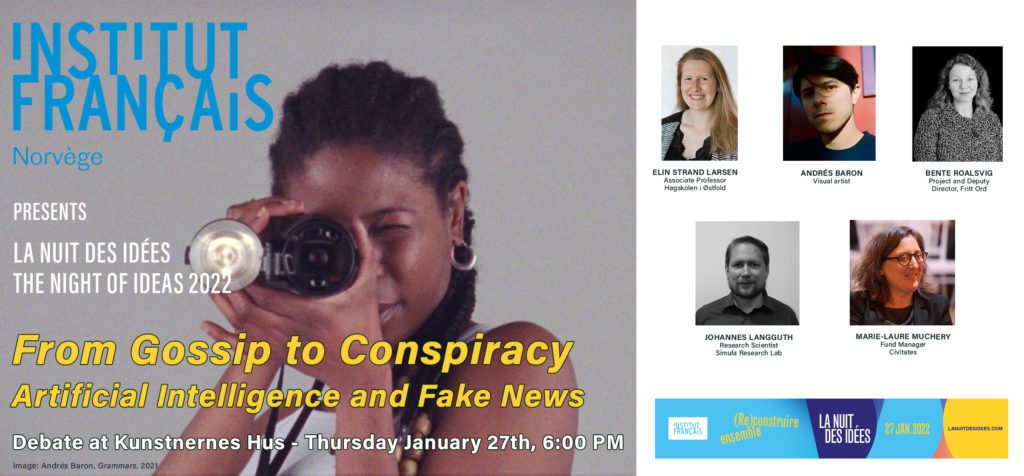 28/01/2022

Local:

6:00 pm


Paris:

7:30 pm

Kunstnerneshus Wergelandsveien 17, OSLO, NO

Norway

English
The imbroglio of fake news on social networks inevitably leads to disinformation by writing fictional stories that act as real impostures of reality. Internet users are the first to be affected, because it is through social networks that false information is mainly relayed.
Moreover, the role of the Internet giants is of capital importance because they can put in place or not information filters such as fakes checkers or take retaliatory measures against the authors of false tweets or statements leading to hatred.
The intensive use of fake news promotes the culture of clash at the expense of the culture of pluralism, which represents an insidious threat to democracy.
How to counter this practice of false information? Can we force Internet giants to be transparent and virtuous ? Can Artificial Intelligence help solve this global problem ?
The debate will take place at the Kunstnerneshus (artists house) in Oslo. Institut français de Norvège has invited researchers specialized in fake news and AI, ONG representatives and the artist Andres Baron to an interdisciplinary meeting.