Export, Import and International Cooperation in the Music Sector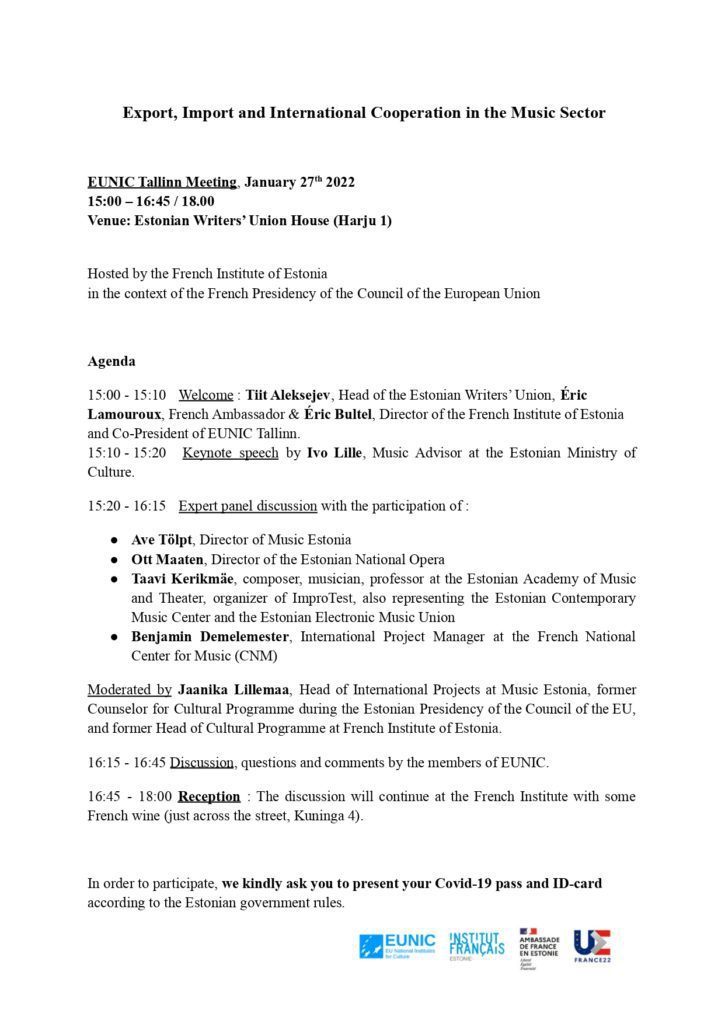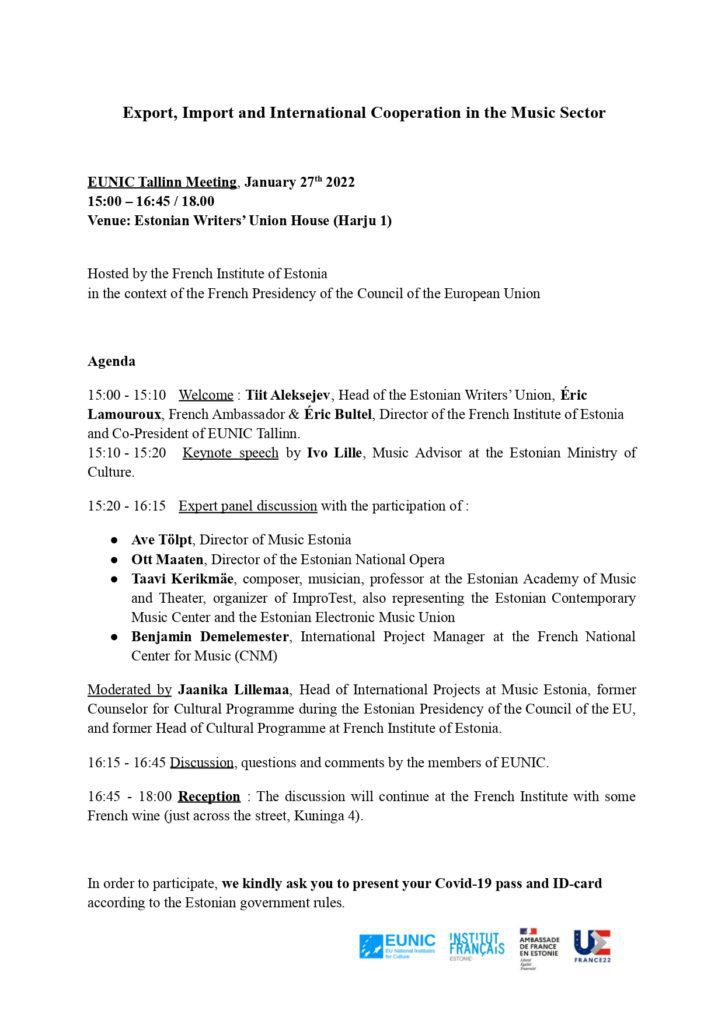 27/01/2022

Locale :

15h00


Paris :

14h00

1 Harju Estonian Writers' Union House, Tallinn, EE

Estonie

Anglais
EUNIC Tallinn Meeting, January 27th 2022
15:00 – 16:45 / 18.00
Place: Estonian Writers' Union House (Harju 1)
Hosted by the French Institute of Estonia, in the context of the French Presidency of the Council of the European Union
Agenda
15:00 – 15:10 Welcome :
Tiit Aleksejev, Head of the Estonian Writers' Union,
Éric Lamouroux, French Ambassador & Éric Bultel, Director of the French Institute of Estonia and Co-President of EUNIC Tallinn.
15:10 – 15:20 Keynote speech by Ivo Lille, Music Advisor at the Estonian Ministry of Culture.
15:20 – 16:15 Expert panel discussion with the participation of :
● Ave Tölpt, Director of Music Estonia
● Ott Maaten, Director of the Estonian National Opera
● Taavi Kerikmäe, composer, musician, professor at the Estonian Academy of Music and Theater, organizer of ImproTest, also representing the Estonian Contemporary Music Center and the Estonian Electronic Music Union
● Benjamin Demelemester, International Project Manager at the French National Center for Music (CNM)
Moderated by Jaanika Lillemaa, Head of International Projects at Music Estonia, former Counselor for Cultural Programme during the Estonian Presidency of the Council of the EU, and former Head of Cultural Programme at French Institute of Estonia.
16:15 – 16:45 Discussion, questions and comments by the members of EUNIC.
16:45 – 18:00 Reception : The discussion will continue at the French Institute with some French wine (just across the street, Kuninga 4).