AMIENS - NIZHNY NOVGOROD CROSSES GLANCES ON THE HERITAGE OF PAST AND CONTEMPORARY HISTORY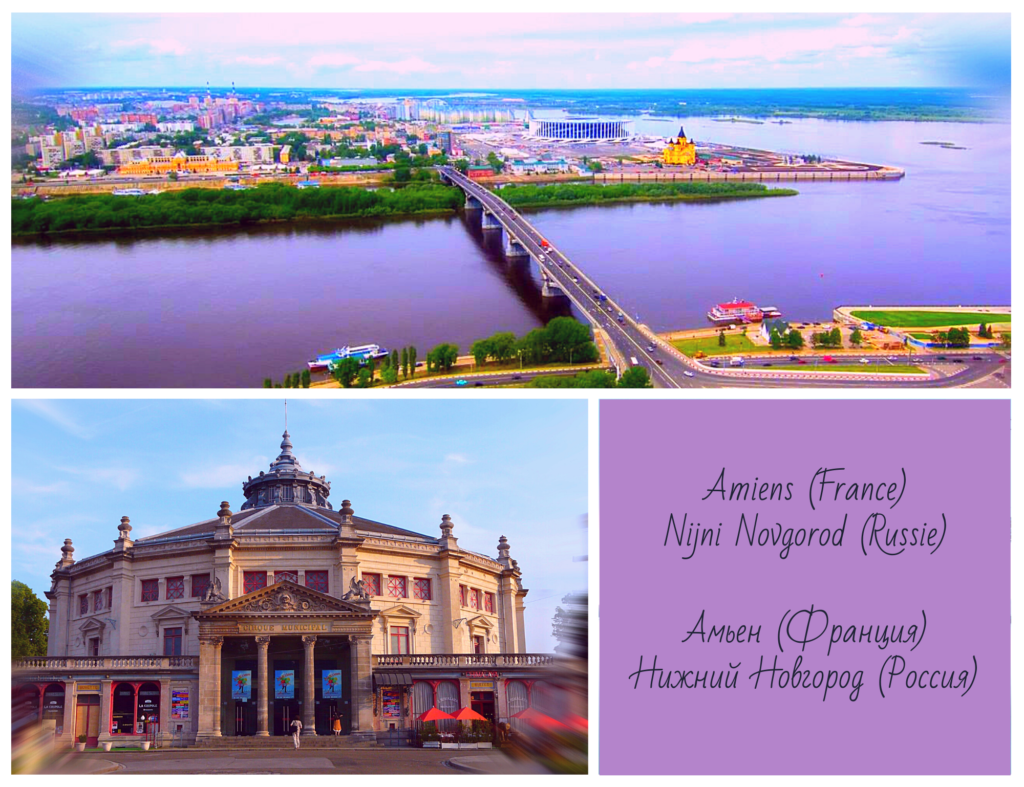 28/01/2021

Local:

5:00 pm


Paris:

3:00 pm

Nizhny Novgorod Alliance française de Nizhny Novgorod, Nizhny Novgorod, UK

Russia

French
Based on the theme Proximity - Быть ближе, while going through this global health crisis that questions our relationship to distance and solitude, it seemed natural to go and find out how to cultivate proximity and continue to discover new horizons that allow dialogue between the French and Russian cultures.
In 2020, the Alliance Française of Nizhny Novgorod participated for the first time in the Night of Ideas, offering an open stage for French-speaking students from Lobachevski University around the theme of Being Alive. It seemed obvious to continue in this way and to associate a French university this time.
The AMIENS Project - NIJNI NOVGOROD: CROSS-REVIEWING THE HERITAGE OF PAST AND CONTEMPORARY HISTORY
After exchanges and discussions, the French students will present photos or videos of the city of Amiens (symbolic buildings and vestiges around the Citadel, their university site), which they will comment on and from which they will evoke
the city's past and contemporary history. In the same way, Russian students will prepare a presentation of their city in the same past and contemporary aspects they have chosen. Texts may also be written or collected and put together on the Padlet platform. The principle is that neither of them are interested in the other's city prior to the meeting in order to remain untouched by any representation. The aim is to promote the meeting and exchange between two countries, two cultures and two universities.
Academic Referrals
Amiens UPJV

Nathalie Frigul, Senior Lecturer, Doctor of Sociology, Head of the Department of Sociology Ethnology Demography
Fabrice Raffin, lecturer, doctor in sociology, who directs the master Culture Heritage and Digital Innovations
Anthropology professors, professors at the UPJV working on heritage,
could join the event as guests.

Nizhny Novgorod Lobachevski University UNN

Natalia Voskresenskaia, Deputy Director of Studies, Head of the Department of
linguistics, director of the French language resource centre, master
of lectures in Romance philology, Doctor of Letters, Ph.
Ekaterina Kazakova, Lecturer in Romance Philology, Doctor of Letters
Origin of students
UPJV

Students of social sciences, in Master 2 CPIN (Culture and Heritage Digital Innovations), students of the Research Master and Master in Health and Social Policy Engineering.
20 students in 5th year Master 2 Social Sciences.

UNN

Philology students, future teachers of two foreign languages.
20 3rd and 4th year students
Alliance française de Nijni Novgorod AFNN
Jeanne-Marie Pietropaoli, Director
Natalia Rodionova, responsible for cultural projects and communication
Partners